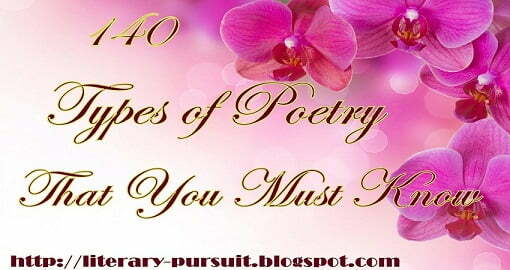 From the time immemorial poetry has been continuing her task of healing and entertaining human psyche. It is the very reflection of our inner soul and the very instinct of our inner heart. There are quite a few who hardly love poetry. A few of us like reading poetry, a few of us listening, while a few writing. Till now poetry has been written in different forms and style. But its journey has not yet been ended but updated every now. In this article I choose to write on various types of poetry, with their characteristics with examples. I do believe
it surely manifests your poetic hearts.
A poem having 5 lines
begins with a successive letter of the alphabet. The first word begins with A, the second with B and so on.
Although things are not perfect
Because of trial or pain
Continue in thanksgiving
Do not begin to blame
Even when the times are hard
Fierce winds are bound to blow.
2) Abecedarian/Abecedarius
This type of poem is known as "Alphabet Poem"
where each line or verse begins with a successive letter of the alphabet (a, b, c, d…and so forth) until the end of the alphabet is reached, thus using the whole alphabet.
Examples:
AN A.B.C.by Geoffrey Chaucer
A poem, usually in verse, in which the first or the last letters of the lines, or certain other letters, taken in order, form a name, word, phrase, or motto.
S ummer is fun
U nder the sun
M y family away to
M y caravan to stay
E vening brings the sun set
R ight infront of me
Alexandrine poetry consists of a line of 12 syllables with major stresses on the 6th syllable and on the last syllable, and one secondary accent in each half line. 
Example:
Testament of Beauty by Robert Bridges
It is a poem that repeats the same letter at the beginning of two or more words immediately succeeding each other, or at short intervals.
Dogs Destroy Dinosaurs
Athena and Apollo
Nate never knows
People who pen poetry
A ballad is a narrative poem that tells a story or incidents.Each stanza usually comprises of four lines with 1st and 3rd lines having eight syllables each, while the 2nd and 4th lines having six syllables.
Example:
S.T. Coleridge's The Rime of the Ancient Mariners
It has three stanzas of seven, eight or ten lines and a shorter final stanza of four or five. All stanzas end with the same one line refrain.
Example:
A Ballade of Theatricals by G.K. Chesterton
This is a form of devotional verse that is set to music. They are poems praising the Hindu Gods in their various forms.
A poem written about one self's life, personality traits, and ambitions, likes and dislikes etc.
Example:
Jean Ingelow's "One Morning, Oh! So Early".
A poem or verse having regular metre (mainly iambic pentameter) without any rimes.
Examples:
Milton's Paradise Lost, Thomson's The Season, Tennyson's Ulysses
This form of poetry is a stream of short phrases and images with repetition and rapid flow. The last word of the every second lines comes first of the successive line. This form is invented by Robert Keim in 2008.
Bucket of
Poetry
Kick the
can
Kick the
bucket
Bucket of
chum
Bucket of
worms
Worms in
dirt
Worms in
my brain
Brain in
my head
Brain in
my book…..
A Poetry that treats a serious subject as trivially and ridiculously.
This is a section or division in a long poem, like an epic or mock epic.
Example:
Alexander Pope's "The Rape of the Lock" has five cantos.
Medieval Italian lyric style poetry with five or six stanzas and a shorter ending stanza.
Example:
His Lament for Selvaggia by Cino da Pistoia
This poem generally serves "seize the day" motto. Live for today and make the best use of it are the main themes of the poem.
The chant royal is a poetic form that consists of five eleven-line stanzas with a rhyme scheme a-b-a-b-c-c-d-d-e-d-E and a five-line envoi rhyming d-d-e-d-E or a seven-line envoi c-c-d-d-e-d-E.


Example:
The Dance of Death by Austin Dobson
A type of traditional Russian poetry is a single quatrain in trochaic tetrameter with an abab or abcb rhyme scheme. Usually humorous, satirical, or ironic in nature, the poem is put to music.
Mother, spare me, don't scold me
For the baby in my skirt.
Just think, like me, Virgin Mary
Without husband's help gave birth.
The most intricate Japanese Poetry form is the Choka, or Long Poem.
The Moth
there is no freedom
escaping from my cocoon
I must seek you once again
I am drawn to you
like a moth to a candle
circling nearer and nearer
the deadly flame calls
now my wings are scorched
why must my nature be so?
Cinqku follows a strict 17 syllable count arranged in five successive lines of 2-3-4-6-2 syllables. No title is used for single verse cinqku poems which are written in haiku- style free diction and syntax with no metrical requirement; a turn is used that may be similar to kireji in haiku or cinquain. Sequence, crown, and mirror, cinqku may be titled. Invented
by Denis Garrison.
Example: 
Goodbye by Kim Hilliker
The word cinquain is a Latin term for "five". A cinquain is an example of shape poetry. Because of the exact number of words required for each is unique, symmetrical shape is created from interesting descriptive words.
The traditional cinquain is based on a syllable count. line 1 – 2 syllables line 2 – 4 syllables line 3 – 6 syllables line 4 – 8 syllables line 5 – 2 syllables
Preening, searching, stalking
Poetry which holds the principles and ideals of beauty that is characteristic of Greek and Roman art, architecture, and literature.
Example:
Eloisa to Abelard
by Alexander Pope
A Clerihew (or clerihew) is a very specific kind of short humorous verse, typically with the following properties: It is biographical and usually whimsical, showing the subject from an unusual point of view; but it is hardly ever satirical, abusive or obscene; It has four lines of irregular length (for comic effect); The first line consists solely (or almost solely) of a
well-known person's name.
Sir Humphrey Davy
Abominated gravy.
He lived in the odium
Of having discovered sodium.
Sometimes called as "shape poetry"- concrete poetry is poetry whose visual appearance matches the topic of the poem. The words from shape which illustrate the poem's subject as a picture, as well as through their literal meaning.
Example:
"The Mouse's tale" from Lewis Carroll's Alice's Adventure in Wonderland.
I
am
a very
special
shape I have
three points and
three lines straight.
Look through my words
and you will see, the shape
that I am meant to be. I'm just
not words caught in a tangle. Look
close to see a small triangle. My angles
add to one hundred and eighty degrees, you
learn this at school with your abc's. Practice your
maths and you will see, some other fine examples of me.
This comprises the repetition of the same consonant sound (not 'letters') before and after different vowels.
It seemedthat out of battle I escaped scooped
Down some profound dull tunnel, long since scooped
Repetitions are evident in 'escaped' and 'scooped'.
This type of poem is two lines which may be rhymed or unrhymed.
Example:
Walt Whitman's "To You", Pope's "Eloisa to Abelard"
Cowboy poetry is rhymed, metered verse written by someone who has lived a significant portion of his or her life in Western North American cattle culture. After a day's of work, cowboys would gather around a campfire and entertain one another with folk songs.
Example:
"Compadre" by Jim Fish