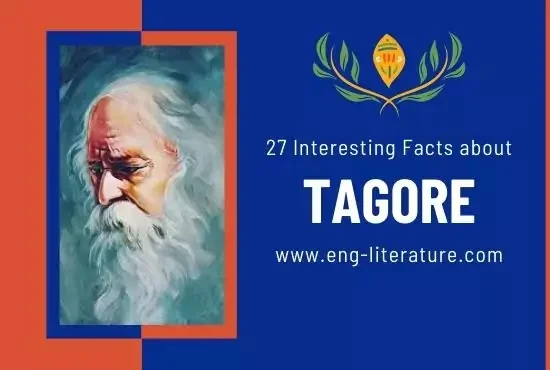 27 Top Interesting Facts about Rabindranath Tagore
Introduction
Rabindranath Tagore was a Bengali polymath who reshaped Bengali literature and music, as well as Indian art with Contextual Modernism in the late 19th and early 20th centuries. Tagore modernized Bengali art by spurning rigid classical forms and resisting linguistic strictures. He was a poet, novelist, playwright, short story writer, essayists, social and cultural reformer, painter, academician, philosopher, educationist, music composer, humanist and so on.
Tagore was born, according to the Gregorian calendar, on May 7 in 1861 – but according to the Bengali calendar, it was the 25th of Baishakh.
Rabindranath Tagore is famous by many names – Gurudev, Kabiguru, Biswakabi and often referred to as "the Bard of Bengal".
His nick name is Rabi.
Tagore was born the youngest of fourteen children, in the Jorasanko Thakurbari, Calcutta, to parents Debendranath Tagore and Sarada Devi.
Debendranath was one of the founders of the Brahmo Samaj.
His sister Swarnakumari Devi was a well-renowned poet and novelist. She was among the first women in Bengal to gain importance in these fields as well as for her music and social work.
Rabindranath wrote his first poem at the age of six. He published his first substantial poetry-under the pseudonym Bhanushingho (Sun Lion), in 1877 and wrote his first short stories and dramas at age sixteen.
Homeschooled until seventeen, Tagore pursued his formal education in England. His father wanted him to become a barrister so he went to study in a public school in Brighton, England. He briefly attended University College London to study law, but left school, opting instead for independent study of Shakespeare's plays Coriolanus, and Antony and Cleopatra and the Religio Medici of Thomas Browne.
Rabindranath was married to Mrinalini Devi, a girl of just eleven in the year 1883. Together they have five children.
Also Read:
Tagore's wife and two of his children died in Shantiniketan. On 19 January 1905, Tagore's father also died.
In 1912, Tagore went to England. Anglo-Irish poet William Butler Yeats wrote the preface to the English translation of Tagore's famous book Gitanjali (Song Offerings). Tagore also met Ezra Pound, G. B. Wells, C. F. Andrews, Robert Bridges, Ernest Rhys, Thomas Sturge Moore, G. B, Shaw, Galsworthy and many others.
Rabindranath was the first Indian, the first Asian and the first Non-Europian who was awarded the Nobel Prize (1913) in literature. He was awarded thus for his immortal Gitanjali (Song Offerings).
The preface of Tagore's most acclaimed work, Gitanjali, was written by another greatest poet of the 20th century, W.B. Yeats.
His brainchild experimental school at Shantiniketan followed the ideology of Upanishadic education.
He used his Nobel Prize cash and raised funds to build the Visva – Bharati University in Shantiniketan. This university was founded by Tagore to challenge the traditional teaching methods in India. He wanted students to go beyond the
curriculum and understand broader concepts of humanity. Here, many classes are still held under trees in open fields.
Many distinguished personalities like Amartya Sen, another Nobel Laureate and Economist, Satyajit Ray, notable writer and film-maker and Indira Gandhi, former Prime Minister of India used to study in Visva Bharati.
Rabindranath Tagore was honoured with a knighthood in 1915, by King George V. However, he renounced his knighthood in 1919 to protest the Jallianwala Bagh massacre.
Tagore is believed to have worked on almost all kinds of genres. He wrote novels, short stories, poems, essays, verses, dramas, songs, and autobiographies, travelogues, a lot of other stuff.
At the age of sixty, Tagore took up drawing and painting and many of his works were successfully exhibited throughout Europe. His strange colour schemes and off-beat aesthetics made people realize that he was red-green colour blind.
Many people know the fact that Tagore wrote national anthems for two countries – "Jana Gana Mana" for India and "Amar Sonar Bangla" for Bangladesh. What many people don't know is that "Sri Lanka Matha", the national anthem of Sri Lanka, the Bengali version of which was written by Rabindranath Tagore, and was later translated into Sinhala by Ananda Samarakoon, his student.
In 1926 Tagore traveled to Italy where he met Mussolini in Rome. As he didn't have anything negative to say on the meeting his reputation fell in some circles. He was outspoken in his political views and this act actually worried some countries.
Rabindranath Tagore is also credited with calling Gandhi Ji "Mahatma" for the first time.
Tagore met Albert Einstein, the legendary theoretical physicist, at least four times in 1930-1931. Their first meeting took place in 1930 at Einstein's home on a hilltop outside Berlin, Germany. Both had won the Nobel Prize: Tagore for literature in 1913, Einstein for physics in 1921. Their intellectually stimulating conversation is detailed in Science and the Indian Tradition: When Einstein Met Tagore.
Even during the last decade of his life, Tagore continued his activism. He criticized Mohandas Gandhi, the Indian leader, for Gandhi's comments about an earthquake on 15 January 1934 in Bihar. Gandhi had said the earthquake had happened because God wanted to punish people for practicing casteism.
Tagore spent the last four years of his life in sickness and pain. In late 1937, he lost consciousness. He was in a coma for a long time. Eventually he woke up, but three years later, he went back into a coma. During these years, whenever he was conscious and felt well enough, he wrote poems. These poems talk about how he came close to death. After a long period of suffering, Tagore died on 7 August 1941, at the age of 80, in his childhood home in Kolkata.
There are 3 Tagore museums in India and 5 in Bangladesh. The ones in India are: Rabindra Bharati Museum, at Jorasanko Thakur Bari which is his ancestral home in Kolkata. Rabindra Bhavan Museum, in Santiniketan, which is now a university town with the Visva-Bharati University. Rabindra Museum, in Mungpoo, near Kalimpong. The poet visited the area and stayed at a house that eventually became this museum.
Between 1914 and 1922, the Jiménez-Camprubí spouses translated at least twenty-two of Tagore's books from English into Spanish. These Spanish translations influenced many leading figures of Spanish literature. Some of them are Pablo Neruda and Gabriela Mistral of Chile; Octavio Paz of Mexico; and José Ortega Gasset, Zenobia Camprubí, and Juan Ramón Jiménez of Spain.
Conclusion
Even after his death, Rabindranath Tagore remained a towering figure in the millennium-old literature of Bengal. His poetry as well as his novels, short stories, and essays are very widely read, and the songs he composed reverberate around the eastern part of India and throughout India and beyond the border.