Chetan Bhagat Books
Chetan Baghat, a rising star in the contemporary modern Indian literature, is a person with multifaceted talent. He is a novelist, essayist, columnist, public speaker and a screenplay writer.
Chetan Bhagat All Books
#1 Five Point Someone : Chetan Bhagat Novels
Chetan Bhagat, once mechanical engineer and a banker by profession, kicked off his writing career more than a decade ago in 2004 with the release of Five Point Someone, the first book written by Chetan. Five Point Someone is about three friends – Hari, Ryan & Alok- and their life at the top engineering college – IIT. The story has fun and memorable moments with a closely intact underlying theme of satire on the education system and how students survive in the competitive environment.
The thing that made Five Point Someone more special is that the much-loved Hindi film 3 Idiots starring Amir Khan was based on this novel by Chetan Bhagat. No doubt this movie labeled Chetan Bhagat a star author overnight.
Five Point Someone Book PDF
#2 One Night @ The Call Center : Chetan Bhagat Novels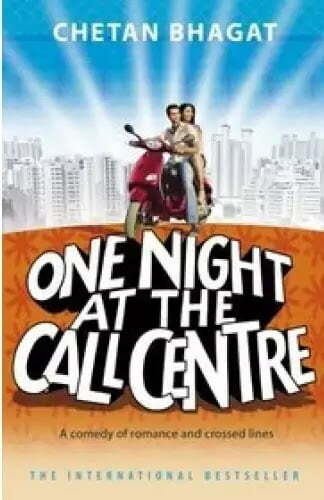 After kissing tremendous success of Five Point Someone, Chetan Bhagat published his second novel – One Night @ The Call Center. It was released in 2005. The story was spun around the sheer thought of a call from God himself to reinstate the self-belief and determination. One Night @ The Call Center, the second one in the Chetan Bhagat book list, is about six people. The two boys, three girls, and a middle-aged man – working in a call center in Gurgaon and struggling with their own problems in life.
After a car crash involving all six characters, they receive this call from God who guides and motivates them not only to get out the car safe but face life problems with determination and ultimately win at life.
One Night @ The Call Center Book PDF
#3 The Three Mistakes of My Life : Chetan Bhagat Books
The Three Mistakes of My Life which was released in 2008 is the third book in Chetan Bhagat books name. This book by Chetan Bhagat also became a bestseller and got translated into French and other Indian languages. Later, The Three Mistakes of My Life was also made into another Hindi movie – Kai Po Che!
Chetan Bhagat wrote this third book again about youngsters and how an individual's dream can overcome the nightmare thrown up by life. The story is about Govind and two friends – Omi & Ali. This book by Chetan Bhagat shows how Govind makes few mistakes that overturn his life into something he hasn't dreamt of.
The Three Mistakes of My Life Book PDF
#4 2 States : Chetan Bhagat Books
Apart from being a constant bestseller, Chetan Bhagat won national and international fame. His fourth book, 2 States, which is to some extent autobiographical was released in 2009. The fourth book on the Chetan Bhagat novels list tells the tale of a couple from two different states that had a hard time convincing their parent and getting married. This book bitterly ironizes on the Indian marriage and caste culture.
2 States by no means can also be regarded as the first romance-themed novel in the Chetan Bhagat books list. Chetan creates unforgettable romantic moments and some witty situations among parents. 2 States was later made into a Bollywood film that grossed more than 100 crores on box office.
2 States Book PDF
#5 Revolution 2020 : Chetan Bhagat Books
After four consecutive bestselling novels in Chetan Bhagat books list, he wrote his fifth book, Revolution 2020 and again took on a serious issue of rampant corruption in the Indian education system. The story of Revolution 2020 is about three childhood buddies – Gopal, Raghav & Aarti –  living in Varanasi, India. Gopal is not so well-off and aims to earn money while Raghav is rich and aims to revolutionize India.
There is another parallel story of love triangle is that both the guys love the same girl Aarti. Towards the end, Raghav becomes MLA and marries Aarti while Gopal sets up his business, still heartbroken for the sacrifice of Love.
Revolution 2020 Book PDF
#6 What Young India Wants : Chetan Bhagat Books
After having five bestselling fiction novels, Chetan Bhagat became a renowned author and the motivational speaker delivering lectures at various events. His fifth book, What Young India Wants, is all about his thoughts on the desires of Young India and the issues faced by youngsters in the country.
Chetan explains, in simple prose, how our parenting, education system and society have an impact on the upbringing of a child and his future. He also talks about our political responsibilities and can we make a difference. He also offers solutions to such problems and urges readers to make the country better.
What Young India Wants Book PDF
#7 Half Girlfriend : Chetan Bhagat Books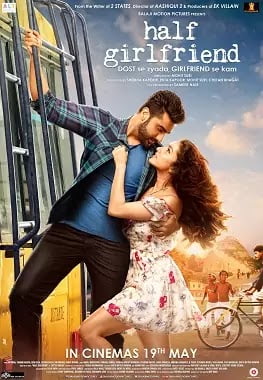 Half Girlfriend, another film based novel by Chetan Bhagat which came in 2014 is one of the latest addition to the Chetan Bhagat books list. After the huge success of the 2 States, Chetan wrote this young adult romance novel about a boy, Madhav, who couldn't speak English and enrolls in St. Stephens College. He wants to be friends with Riya, a modern Delhi girl and doesn't want to be in relation with Madhav.
Chetan termed this confusing relationship status of being with each other but not being able to decide whether they are in a relationship or not. After all, that's what most men in India get.
Half Girlfriend Book PDF
#8 Making India Awesome : Chetan Bhagat Books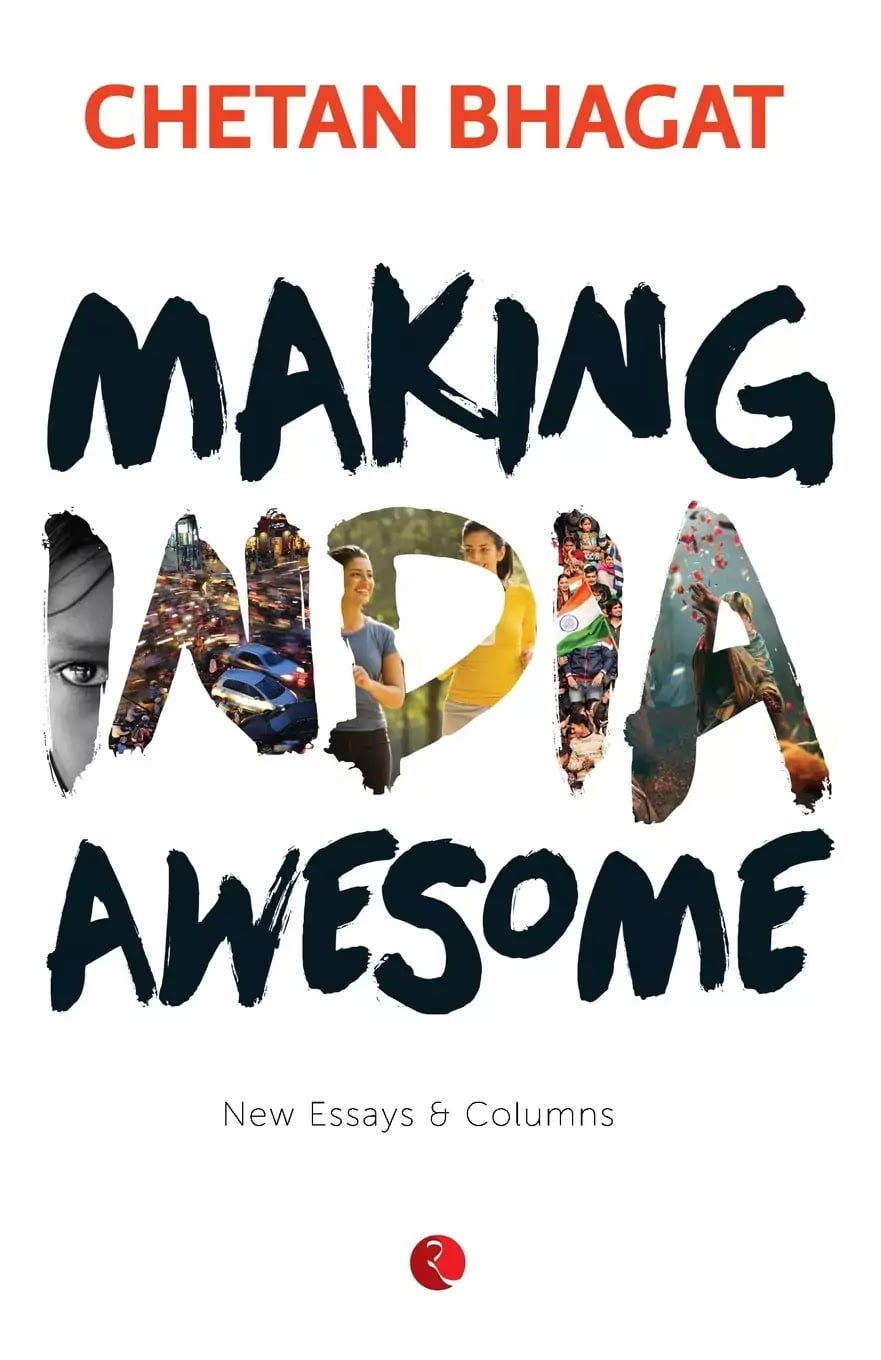 After having a skyrocket success of his first non-fiction book, Chetan Bhagat wrote another non-fiction book Making India Awesome. This book contains essays and columns in which Chetan Bhagat focuses on the solutions to many intractable problems like unemployment, corruption, poverty, communal violence, illiteracy and more. Making India Awesome by Chetan Bhagat was released in 2015.
With easily understandable language, the second non-fiction book on Chetan Bhagat books list gives valuable insights and practical solutions on how every individual can play their part in solving the national problems.
Making India Awesome Book PDF
#9 One Indian Girl : Chetan Bhagat Books
Coming to subsequent novel by Chetan Bhagat – One Indian Girl which released in October 2017. In his latest book, Chetan Bhagat has tried to spotlight the difficulty of Feminism and inequality for ladies in Urban India. it's about difference how a male with an equivalent lifestyle and choices are accepted by society while a female doesn't. One India Girl is that the 9th novel by Chetan Bhagat during which has dared to write down within the person with a female perspective. And it's worth to read Chetan writing during a female's voice.
One Indian Girl by Chetan Bhagat deals about a story of Radhika Mehta, an intelligent and successful lady who works at a top Investment Bank. The novel takes a deep check out the issues faced by any employed Indian women altogether walks of life, be it work, society or love. Not only she earns tons of cash but also has an opinion on everything happening round her.
#10 The Girl in Room 105 : Chetan Bhagat Books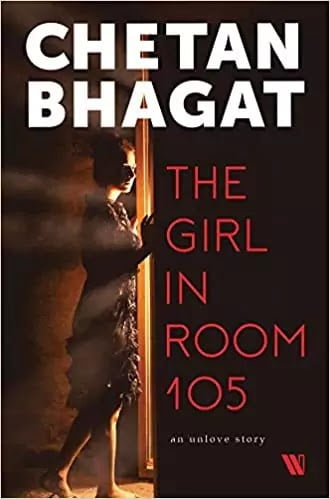 Finally, talking about the latest book by Chetan Bhagat – The Girl in Room 105 – which releases in October 2018. The bestselling author, Chetan gifts yet another love story which he rather refers to as 'An Unlove Story'. This time the lead characters are from different religions; Keshav is a Hindu boy while Zara is a Muslim girl from Kashmir. And due to that, they have to break up after a happy relationship.
Zara moves on while Keshav is stuck hating everything including his job. After years, one night, Zara asks Keshav to come to her hostel room 105 where they used to meet usually. Later on the story takes an entire different turn towards thrilling actions and episodes.
The Girl in Room 105 Book PDF
#11 India Positive : Chetan Bhagat Books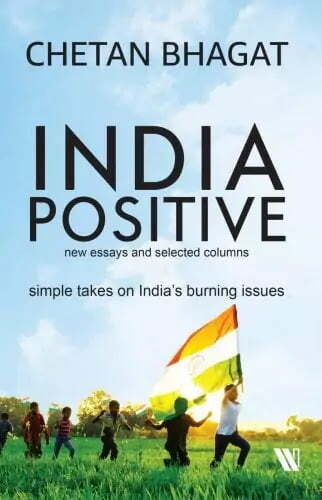 India Positive, another non-fiction work is Chetan Bhagat latest book. The book is in the form of a compilation of new essays and selected columns and hit tweets of the author talking about the burning issues of the nation.
Chetan Bhagat has claimed that this book will help readers in framing a positive opinion about India. Issues like, unemployment, higher education, inflation and other recent burning issues which the country has faced like Pulwama attack is included in the book.
Chetan Bhagat Upcoming Book
In an interview he revealed that his upcoming book would be One Arranged Murder
Also Read:
Get All Chetan Bhagat Books PDF (Free)
To get all Chetan Bhagat Books Subscribe my Telegram Channel and make a request.
Disclaimer
We provide links of PDF Books from third party websites available in internet. We share links of PDF which have already been uploaded by some other websites. Therefore we are not responsible for the accuracy, compliance, copyright, legality, decency or any other aspect of the content of some other sites. If you find any content inappropriate or illegal violating the DMCA, kindly contact the Admin of this Website. The link will be removed at the earliest best. Thank you.