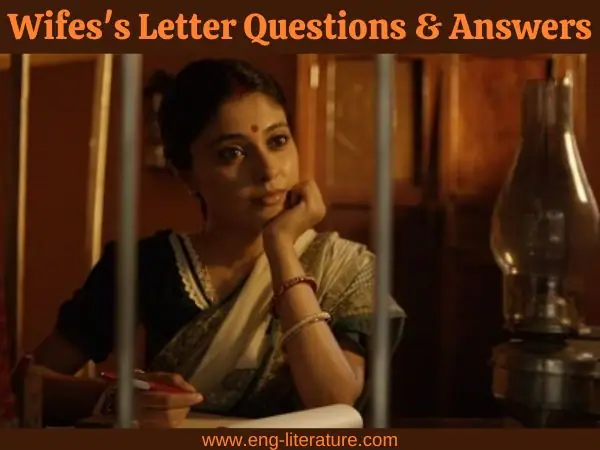 Wife's Letter Questions and Answers
What type of writing is "The Wife's Letter"?
Ans. "The Wife's Letter" is a unique short story by Rabindranath Tagore, the world famous poet with many-sided faculty. It is really surprising that he has written this in the novel method of letter-writing. Mrinal's sending a letter to her husband forms the corpus of the story. Finely, it starts with–"My submission at your lotus feet" and ends with—"Bereft of the shelter of your family's feet- Mrinal…." The unquestionable genius of Tagore is proved here.
Why was Mrinal writing the letter?
Ans. Though Mrinal was married for 15 years, she never wrote a letter to her husband. Because, she was always at hand. Her husband heard many words from her lips and vice versa. Indeed, there was no gap to write a letter. But, now she wants to inform her husband about their attitude to Bindu, her own love for justice and many uncommon things. In fact, she wanted to express the negative outlook of the members of her husband's house. So, from the seat of Lord Jagannath, she was writing a letter.
Describe Mrinal's infancy.
Ans. In infancy, Mrinal with her brother was struck down by typhoid. Her brother died but she was survived. The neighbouring ladies told that Mrinal lived as she was a girl. If she were a boy, she would not have been spared. The god of Death is skilled in the art of theft and he covets what is precious. In fact, Mrinal's not getting trapped in the net of inevitability is also an oblique reason for writing this letter to her husband.
How was Mrinal's locality when she was going to be wedlocked ?
Ans. Mrinal was 12 years old then. Nirad and her uncle-in-law went to her house to inspect the prospective bride. It was an inaccessible village where howling of jackals could be heard by day from railway station. First 14 miles were to be covered by a carriage and the next 3 miles by a palanquin. So, the inspectors were surely harassed and with it was East Bengal cooking. However, Mrinal's would-be mother-in-law tried to fulfill the loss of beauty in 1st wife through the next one. So their tiresome journey was fructified ultimately as Mrinal had matchless beauty.
How was Mrinal received in her husband's house and by neighbours?
Ans. Like a true Bengali bride, Mrinal was taken into the inner room. The whole sky wept to the strains of flute music. After a minute's scrutiny, the housewives of locality appreciated her beauty. This verdict made her elder sister-in-law grave. But, Mrinal can well remind that if her beauty was made of Ganga silt, is was to be valued. But, her beauty had no value in her husband's household.
What does Mrinal say about her cleverness?
Ans. Mrinal says that her mother too much feared her cleverness. She thought that it is really an obstacle to women in their daily life. But, Mrinal thinks if an intelligent lady is forced to follow some hand-made rules, she is sure to stumble. She had nothings to do but supporting her own merit gifted by God in a limitless way. Whom could she return it? Sometimes, she was abused as over-clever femele. But she forgave them all as harsh words are the consolation of weak.
How did Mrinal love the cattle?
Ans. Being a country-girl, Mrinal loved the Cattle very much. Their memory is still bright in her memory. They were housed in a shed beside the women's quarters and had to move only in a courtyard. They were fed in a wooden trough. Her heart wept for them. The two cows and three calves seemed most familiar to her in the whole city of Calcutta. Secretly, she led them out of her own hands from her own food. Though, sometimes, for this fondness of animals, her lineage was put to question.
How was Mrinal tortured by motherhood's pain ?
Ans. Mrinal's daughter died just after she was born. She also called Mrinal to go with her. If she had lived, Mrinal would have been gifted with whatever is great and true. From daughter-in-law, she would become a mother, who belongs to the family of the world. She only suffered the pain of motherhood and never knew its freedom.
How was the women's quarter ?
Ans. The English doctor attending upon Mrinal was astonished at the sight of women's quarters and of the lying-in-room. The outer rooms were decorated and ornamental. Just an opposite picture was to be seen inside the inner rooms. These were graceless. There light burnt dimly, air entered by stealth like a thief, courtyard was stuffed with rubbish, walls were stained. To the doctor, this unhealthy condition was responsible for their suffering. But, to Mrinal, negligence is like the ashes which cover a fire.
Why did Bindu come to her sister's house and what was the reaction ?
Ans. Bindu was driven by her cousins after the death of her windowed mother. She was, therefore, forced to take shelter in her sister's house. But, her sister's family took it as a nuisance and got angry and irritated. But, Mrinal whole heartedly supported her as the other was totally helpless in this huge world. Mrinal was with Bindu because she knew that without being fully helpless, one can't take shelter with strangers against their will. So, this neglected person should not be thrown aside as Mrinal thinks.
What was Bindu's sister's attitude towards Bindu?
Ans. Though her heart wept, Bindu's elder sister failed to come to Bindu's help, being in a dilemma. She had not much beauty to boast of like that of Mrinal and she never wanted to go against her husband's wish. She lacked the courage to support Bindu openly. Even, she tried to justify the fact that Bindu was put to perform many menial tasks. Her father requested her husband's father to accept her as their daughter-in-law. So, being afraid of her own lineage, she could not help Bindu. But, she was pleased when Mrinal took side with Bindu, though secretly.
How did Bindu love Mrinal ?
Ans. When Bindu lost her fear of Mrinal, she tied herself with the other in another knot. Mrinal was afraid of this excessive love. It was never shown by anyone in her house. She read this love in books. After a long gap of time, it was Bindu who called Mrinal beautiful. Even, she felt offended if Mrinal combed her hair herself. She loved to handle the weight of her hair. Infact, she was infatuated with Mrinal.
How was Bindu convicted to theft ?
Ans. All in Mrinal's house thought that Mrinal was lavishing excessive care on Bindu. As a result, there were endless complaints and objections. When Mrinal's armlets were stolen from her room, all suggested that Bindu was associated in that theft. Even when police started searching houses during the Swadeshi Movement, all in her in-law's family suspected Bindu to be a female informer in the pay of police. Obviously there was no other proof of this than she was Bindu.
How was Bindu boycotted and Mrinal punished by Mrinal's household members ?
Ans. The maids refused to do any work for Bindu who also did not want it. Mrinal wanted it. So, her expenditure went up just to help Bindu. She kept special maid for her and gave her clothes. But, at this, Mrinal's allowance was stopped. Mrinal also started to put on coarsest dishes at the pump. Everybody was annoyed at this. Sentimentally, Mrinal says that her pleasure had no value but her in-laws had to be pleased at any cost. Bindu and Mrinal were punished not for any crime but for the dissatisfaction of a few persons.
Was Bindu's wedlock a marriage at all?
Ans. In every religion, the idea of marriage is loaded with divine significance as it is a true union of two minds. But, in case of Bindu, it was a means to get rid of her for ever. Getting unsuccessful to drive away Bindu, Mrinal's family members took the help of Prajapati, the God of marriage. Her tie was fixed with a man whom she never saw till she became his wife. It is nothing but throwing dust into one's eyes. Bindu will spend her life with a man, her husband ; but neither Bindu nor Mrinal is allowed to learn anything about the habits and nature of the proposed bridegroom.
How was Bindu's husband ?
Ans. At the very first sight, one can't tell that Bindu's husband is insane. But, sometimes, he would grow so violent that he had to be locked up in a room. He was normal on the night of wedding. But, the sleeplessness of whole night excited him fully on the very next day. When Bindu sat down to her meal of rice on a brass-plater, her husband threw it away like a non-sense. He was saying that Bindu was Rani Rasmani and she was served on a brass plate as the servant had probably stolen her golden plate. This caused the anger in him. In short, Bindu's husband was thoroughly subjected to pure madness.
Why did Bindu secretly fled from her husband's house?
Ans. Primarily, Bindu was terrified at the conduct of her insane husband. On the third night, she was forced to enter her husband's room as she was commanded to do so by her mother-in-law. She could not but obey her order as her mother-in-law had a vicious temper and sometimes, she lost control of her senses. She was more terrible than her full. mad son. However, at night, her husband was quiet, but Bindu's entire body grew stiff with fear. She was thoroughly afraid of what might take place then. So, very late at night, she somehow managed to escape, which she can't express in detail.
How was it reacted by others ?
Ans. Hearing the story from Bindu's mouth, Mrinal called, it to be a fraudulent marriage having no significance. Mrinal's husband told that Bindu was lying but, Mrinal strongly disapproved of this view, following the guidance of her heart. The husband tried to frighten Mrinal by speaking about police, court etc. But, Mrinal replied that Bindu was cheated by her in-laws. Bindu's brother-in-law came and threatened to go to the police. But, Mrinal gathered undaunted courage and told-"Let him go to the police then."
How was Mrinal's husband responded when he spoke of wifely devotion ?
Ans. Watching Bindu's behaviour, Mrinal's husband called up the supreme instance of wifely devotion. He told how a wife carried her leprosy-stricken husband herself to his whore's house. He did not feel shame in relating this cowardice. Mrinal felt shame for her own husband and endless pity for Bindu. She was a village-girl. She could not tolerate the righteous talk of her husband any more.
Introduce Sharat, Mrinal's brother.
Ans. We know about Sharat, Mrinal's younger brother from Mrinal's introduction. He was at college in Calcutta. He was a very enthusiastic volunteer for all social mission-may it be rat-killing for plague or relief work in Damodar floods. His zeal did not diminish though he failed twice in fine Arts examination. Mrinal asked him to bring news of Bindu as otherwise she could not contact her at any cost.
Why did Mrinal's husband not like Sharat ?
Ans. Mrinal was somehow cut off from Bindu. But, as Sharat might bring any news, so Mrinal's husband's suspicion grew seeing Sharat with Mrinal, his 'didi'. The husband did not prefer Sharat's visit to her house. He was afraid that police might arrest him in some political case and all of them would have been involved in it. Even Mrinal could not invite Sharat on Brother's day and send her blessings through a messenger.
What final message of Bindu was brought by Sharat?
Ans. Mrinal was too much anxious for Bindu's insoluble condition. She told Sharat, "By whatever means, you must put Bindu on the train to Puri on Wednesday." Sharat also wanted to keep his promise but the situation was beyond his control and he reported in the negative. He told that the previous night, Bindu set her clothes on fire and committed suicide Sharat's friend, one of the nephews of Bindu's house told this to him. She wrote a letter which never reached to Mrinal. All told that it was a fashion for girls to set their sarees on fire. In death also, Bindu failed to win the sympathy from anybody.
How does Mrinal philosophise Bindu's death?
Ans. Though nobody loved Bindu, she was embraced by God after her death. Human power that could be exercised upon her was limited. Bindu was greater than her wretched human birth. No fact, no custom, no wish could now tread her any more. In death, she attained greatness. Now, she was nobody's daughter, no sister of tyrannical cousins, no wife of a mad groom- now, she was infinite. Thus, Mrinal philosophized the death of Bindu.
What are the final words of Mrinal written to her husband ?
Ans. Though Mrinal asserted that she would never return to her house at number 27, Makhan Baral Lane, she assured her husband that the was not going to kill herself. She had no such wish to indulge in such a stale jest with her husband. Mirabai too was a woman like her. Her fetters were not light but she did not need to die in order to live. Mira sang- "Let father, mother, everyone abandon her, O Lord, but Mira will never let you go, whatever befalls her " This is the holding of truly happy life. Mrinal wants to pass her rest part of life being a true devotee in the foot-light of Lord Jagannath the supreme of the universe.