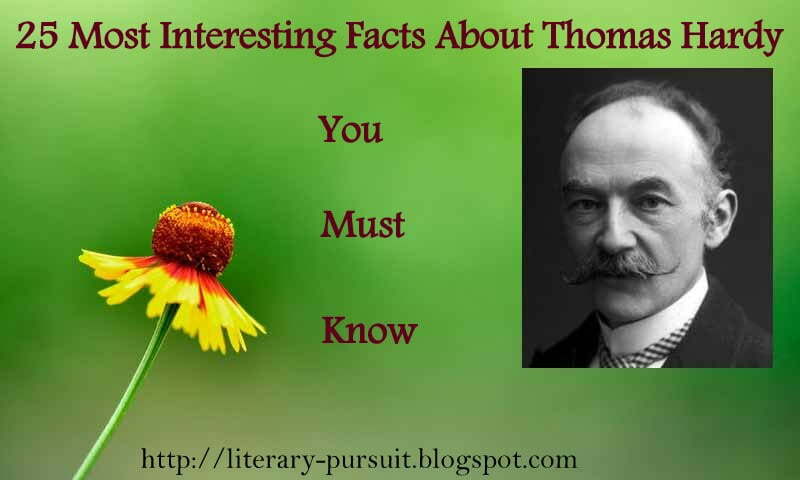 Thomas Hardy was born on June 2, 1840, in Upper Bockhampton near Stinsfrod in Dorset, England, which formed part of the "Wessex" of his novels and poems.
He was the elder among four children.
Hardy was born very small and thought at birth to be dead.
His father also named as Thomas Hardy was a master-mason.
Hardy owes much to his parents and their rural background, inheriting from his father a love of music, from his mother, Jemina a love of reading, and from both strength of personality as well as the stability which connected him in an age of change with a world already vanishing.
Hardy went first to a village school, and then to a school in Dorchester where he learned Latin, French, German and Greek.
At the age of 16 Hardy became an apprentice to John Hicks, an ecclesiastical architect in Dorchester.
At this time he thought seriously of attending university and entering the Church, but he did not do so for lack of money.
Also at this time, Hardy began writing poetry after being impressed by Reverend William Barnes, a local poet. In London Hardy continued to write poetry and began sending his poems to publishers, who quickly returned them.
In March, 1865, his first prose work, a humorous sketch, was published in a journal, but he was more interested in poetry.
During 1867 and 1868, he wrote a novel, The Poor Man and the Lady, which he was advised by George Meredith not to publish because it was too critical of Victorian society.
Hardy took Meredith's advice and in 1870 he published a novel under the title Desperate Remedies.
In 1874, Hardy married Emma Livinia Gifford and in this year his first popular success Far from the Madding Crowd came from his hand.
After his marriage Hardy and his wife wandered about Europe and England "like tramps" with nothing but boxes of books and a book case, besides their clothes.
Afterwards he settled at Sturminster Newton, in a villa with a wide view of water-meadows for two years.
In 1878, Hardy decided to return to London, and after that he published his next novel, The Return of the Native.
He and his wife wanted children but none came.
Between 1878 and 1912 Hardy wrote nine more novels, three volumes of short stories, published three collections of poems and completed his massive dramatic lyric, The Dynaste.
Outwardly Hardy seems to live a tranquil and successful life. But there was unrest beneath the peaceful surface. His personal life is overshadowed by what at last became his wife's virtual insanity. She had a conviction that she had married much beneath her parental status, and that she herself suggested, much of Hardy's work. His wife even tried to stop the publication of Jude the Obscure, which she thought to be immoral.
Jude the Obscure received heavy criticism after publication in 1895 for expressing radical views on the institution of marriage and Christianity. Underlying motifs included children born out of wedlock and conjugal relationships between cousins. Some book merchants would wrap it in brown paper before selling it to the public. The Bishop of Wakefield, who reportedly burned the book for being immoral.
Mrs. Hardy died unexpectedly in 1912.
In 1914, Hardy remarried Florence Emily Dugdale who had been his secretary for several years, a charming and sympathetic woman much younger than he, and with her domestic life became peaceful and orderly.
At this time his happy home became the pilgrimage for young writers like Edmund Blunden, Robert Graves, Lawrence, Sassoon etc.
The First World War had spoilt his new-found tranquillity. His old age brought forth  a harvest of poetry.
Hardy breathed his last on 11th January, 1928. It was a huge loss not only of a figure unique in literature because of his great age and of his eminence, but also as a snapping of the last link with the 19th century, and he was mourned as "the last of the great Victorians".
Hardy had left instructions that his body was to be interred, without great ceremony, in the churchyard in his local village of Stinsford, Dorset. ButThe government had other ideas: the author of such classic novels as The Mayor of Casterbridge and Far from the Madding Crowd should be buried, with full honour, in Westminster Abbey alongside the likes of Geoffrey Chaucer and Charles Dickens. Eventually, a compromise was reached: Hardy would be interred in Poets' Corner but his heart would be buried in his native Dorset.
At his funeral in 1928, Hardy's pallbearers included Rudyard Kipling, George Bernard Shaw, John Galsworthy, A. E. Housman, J. M. Barrie, Edmund Gosse, the Leader of the Opposition, and even the Prime Minister, Stanley Baldwin.
The coining of the word "cliff-hanger" is often credited to Thomas Hardy. The first mention of the word appears in one of serialized episodes of the novel A Pair of Blue Eyes, published in Tinsley's Magazine. Hardy depicts one of the protagonists, Henry Knight, as actually hanging off a cliff.
The Poor Man and the Lady (unpublished and lost)
Under the Greenwood Tree (1872)
A pair of Blue Eyes (1873)
Far From the Madding Crowd (1874)
The Hand of Ethelberta (1876)
The Return of the Native (1878)
The Trumpet Major (1880)
A Laodicean (1881)
Two on a Tower (1882)
The Mayor of Casterbridge (1886)
The Woodlanders (1887)
Wessex Tales (1888)
Tess of the d'Urbervilles (1891)
The Well-Beloved ((1892)
Life's Little Ironies (1894)
Jude the Obscure (1895)
Also Read: