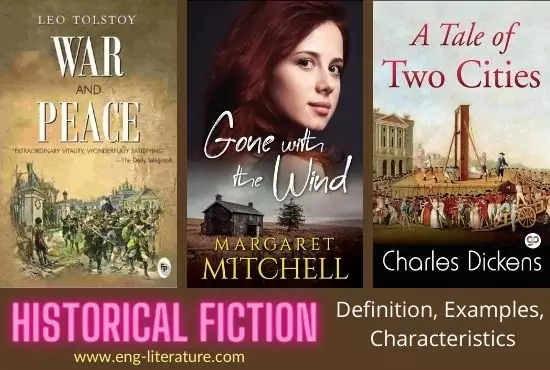 Historical Fiction
Historical Fiction Definition
According to Oxford Dictionary of Literary Terms, "historical fiction" is "a novel in which the action takes place during a specific historical period well before the time of writing (often one or two generations before, sometimes several centuries), and in which some an attempt is made to depict accurately the customs and mentality of the period".
While According to Encyclopædia Britannica, a historical fiction is "a novel that has its setting a usually significant period of history and that attempts to convey the spirit, manners, and social conditions of a past age with realistic detail and fidelity (which is in some cases only apparent fidelity) to historical fact. The work may deal with actual historical personages…or it may contain a mixture of fictional and historical characters"
What is Historical Fiction?
In the simplest words, we can say that historical fiction is set in the past, before the author's lifetime and experience, but there's much more to it than that. It makes a point of conveying a serious respect for historical accuracy and detail, and its intention, beyond providing reading pleasure, is to enhance the reader's knowledge of past events, lives, and customs.
Few scholars believe that "to be deemed historical (in our sense), a novel must have been written at least fifty years after the events described, or have been written by someone who was not alive at the time of those events (who therefore approaches them only by research)."
Historical Fiction Examples
An early example of historical prose fiction is Luó Guanzhông's 14th century Romance of the Three Kingdoms. The novel covers one of the most important periods of Chinese history and left a lasting impact on Chinese culture. In 19th century the Romantics popularized Historical fiction.
György Lukács, in his book The Historical Novel, argues that Walter Scott is the first fiction writer who saw history "not just as a convenient frame in which to stage a contemporary narrative, but rather as a distinct social and cultural setting." So the pioneers of this genre were Walter Scott and James Fenimore Cooper. Scott's novels of Scottish history such as Waverley (1814) and Rob Roy (1817) focus upon a middling character who sits at the intersection of various social groups to explore the development of society through conflict.
Other examples of notable historical include Victor Hugo's Notre Dame de Paris (1831), Dumas père's Les Trois Mousquetaires (1844). Flaubert's Salammbo (1862), and Tolstoy's War and Peace (1863-9). In French literature, the most prominent inheritor of Scott's style of the historical novel was Balzac while James Fenimore Cooper was a prominent author of historical fictions in United States.
Basic Characteristics of Historical Fiction
Historical fiction has a reasonably authentic setting, with plausible details concerning political, social and religious history, clothing language and technology.
A Historical fiction features characters that look and sound like people of a particular historical era.
Historical fiction depicts the values, virtues and prejudices of a historical era accurately, especially where these affect the plot.
Historical fiction avoids distorting history for the sake of political correctness or cultural sensitivity of the current time.
Historical fiction adheres to established history but can also make reasonable changes for the sake of character and plot.
Best Historical Fiction Books
Historical fictions have evolved since its inception. Today the historical novels are no less bestseller. Patrick O'Brian's Aubrey Maturin series, Ken Follett's Pillars of the Earth, and Neal Stephenson's Baroque Cycleare are fine examples of such novels. Mark Turnbull is the author of Decision Most Deadly, a novel set in London during 1641, as England plunged into civil war.
George Leonardos wrote many historical Novels, such the trilogy for the Byzantine, The Palaeologian Dynasty, The Rise and Fall of Byzantium and The Last Palaeologue . His other notable works are Mara, The Christian Sultana, Barbarossa the Pirate, The Sleeping Beauty of Mystras etc.
The novels of Borislav Pekic's are recognized as unusually deeply researched historical novels, taking place in Medieval and Early Modern Europe as well as several during World War II. most notably in his acclaimed, How to Quiet, A Vampire. His seven volume masterpiece, The Golden Fleece is a family saga through which European History is uniquely examined from its birth in Homeric Greece right up to Hitler's Third Reich.
Linda Proud is famous for the depth of her research in recreating Renaissance Florence, particularly the philosophical currents that informed the work of Botticelli, in A Tabernacle for the Sun, Pallas and the Centaur and The Rebirth of Venus.
Besides, Kazuo Ishiguro's novel The Remains of the Day (1989), set in 1956, explains in flashbacks the dubious history of (fictitious) 1930s Darlington Hall and its association with Nazi Germany.
Umberto Eco's novels, most notably his most famous, The Name of the Rose, are historical novels, taking place in Medieval or Early Modern Europe and Marie-Elena John is a Caribbean author whose debut novel Unburnable gives a social history of the Caribbean, dealing with the African origins of Caribbean culture.
Indian Historical Fiction
Indian English Writers too have written wonderful historical fictions. Rabindranath Tagore's Gora is about an Irish child taken in by a Hindu family in Bengal and raised as an orthodox Brahmin during the late nineteenth and early twentieth century. Kunal Basu's The Miniaturist is a novel about a gifted but unconventional artist in the sixteenth century court of the Mughal Emperor Akbar. Chitra Banerjee Divakaruni's The Palace of Illusions is a literary historical fantasy based on the ancient Indian epic, Mahabharat, from the feminist perspective of Princess Panchaali.
Hermann Hesse's Siddhartha is about a prince and spiritual seeker who attained enlightenment; based on traditional tales of the Buddha. Deepak Chopra's Buddha (2007) is about Siddhartha, the Indian prince who abandoned a life of luxury to become a spiritual seeker.
Salman Rushdie's The Enchantress of Florence is a story about a blonde stranger who arrives in the Mughal court of Akbar the Great with a story about a lost Mughal princess in Renaissance Florence while Midnight's Children is a magical realism about two boys born at exactly midnight on the day the country won its independence.
David Davidar's The House of Blue Mangoes is a story of three generations of a family who raise mangoes in a coastal village.
E.M. Forster in his A Passage to India writes about the tragic misunderstandings that result after a British woman visits the Malabar Caves.
Amitav Ghosh's, Sea of Poppies (2008) is about the diverse group of passengers aboard a ship on its way from India to China as the Opium Wars are about to begin. The book is a planned trilogy. And his second book River of Smoke (2011) too deals with an Indian opium merchant and his fellow passengers on a ship traveling from India to China.
Sudhir Kaka'rs, The Seeker (2007) is about the friendship between Mahatma Gandhi and the daughter of a British admiral who becomes his adoring disciple. The Impressionist by Hari Kunzru is about a half-English, halfIndian boy who grows up in luxury near the Taj Mahal until, at fifteen, his true parentage is discovered and he is thrown out to fend for himself and Gita Mehta's Raj is the story of a princess who finds herself ill-prepared for the changing times as the British gain control of her country's government.
Also Read:
8 Most Read American Historical Novel
Gone with the Wind by Margaret Mitchell
The Help by Kathryn Stockett
11/22/63 by Stephen King
The Great Gatsby by F. Scott Fitzgerald
To Kill a Mockingbird by Harper Lee
Beloved by Toni Morrison
Little Women by Louisa May Alcott
The Secret Life of Bees by Sue Monk Kidd
10 Most Famous Historical Romance Novel Authors
Julia Quinn (The Duke and I)
Eva Leigh (My Fake Rake: The Union of the Rakes)
K.J. Charles (An Unseen Attraction)
Kelly Bowen (Duke of My Heart)
Amalie Howard (The Beast of Beswick)
Beverly Jenkins (Something Like Love)
Lydia San Andres (A Summer for Scandal)
Tessa Dare (Romancing the Duke)
Jeannie Lin (Butterfly Swords)
Lisa Kleypas (Devil's Daughter)
Top 3 Historical Fiction Publishers
Here are list of top 3 historical fiction publishers: