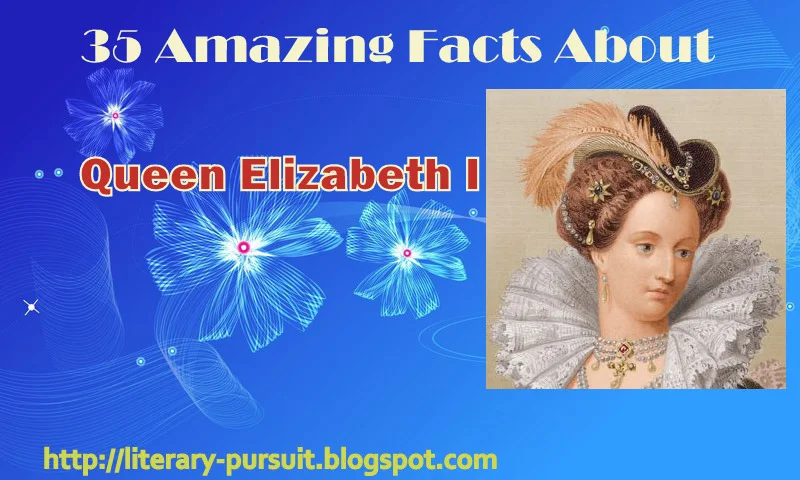 Queen Elizabeth I Facts
Queen Elizabeth I was the most prestigious and praiseworthy queen that England had ever been gifted. In every respect she had excelled with her genius. She had enormous literary taste and passion in her age. In her reign a galaxy of writers like William Shakespeare, Philip Sidney, Christopher Marlowe and many other University Wits show their talent in the field of English sonnet and drama. The reign of Queen Elizabeth I (1558-1603) is rightly been regarded as the Golden Age of England.
Name: Queen Elizabeth I
Titles: The Virgin Queen, Gloriana or Good Queen Bess, the Golden Queen
Dynasty: Tudor
Date of Birth: September 7, 1533
Place of Birth: Greenwich, UK
Father:  Henry VIII
Mother: Anne Boleyn
Date of Ascending the Throne: 17 November, 1558
Predecessors: Queen Mary
Successors: James VI and I
Marital Status: Unmarried
House: House of Tudor
Siblings: Mary I, Edward VI, Henry FitzRoy
Died: March 24, 1603, Richmond Palace, UK
Also Read:
Here you have 36 Amazing Facts about Queen Elizabeth I:
Elizabeth's ascension to the throne required a great deal of good luck… or bad luck, depending on whose perspective you take. After the death of her father, Henry VIII, Elizabeth was third in line for the throne after her younger half-brother Edward VI and her older half-sister Mary.
A 10-year-old Edward took the throne in 1547, ruling for only six years before dying of a fever.
Just before his passing, Edward named his cousin, Lady Jane Grey, his successor (bumping Elizabeth down yet another spot). However, Jane's stint on the throne was a brief 13 days—Mary succeeded in having Jane deposed and took over the crown herself for five years.
Influenza took the childless Mary's life in 1558, allowing Elizabeth to at last become the Queen of England, Wales, and Ireland.
The Queen's own status was just as depressing. Much of Europe regarded her as an illegitimate child of King Henry VIII and his second wife, Anne Boleyn, since the Pope had not sanctioned Henry's divorce from his first wife, Catherine of Aragon. As a bastard, Elizabeth had no right to the English throne.
I was often assumed Elizabeth had no such good relation with her ill-fated mother, Anne Boleyn. The fact that she hardly spoke of her and saved all of her praise for her adored father, Henry VIII, has often led to the conclusion that Elizabeth was ashamed of Anne.
Her mother, Anne Boleyn, was accused of adultery and incest (with her brother George Boleyn) and was beheaded at the Tower of London.
Princess Elizabeth lived with her stepmother Katharine Parr and her husband Thomas Seymour – she was sent away in disgrace amid rumours that she was having an affair with Seymour.
Especially in the early years of Elizabeth's reign, England always faced the danger of attack from the great Roman Catholic powers, Spain and France, egged on by the Pope. Against these perils, the Queen could rely only on her own wits, her gambler's instinct, and above all, her talent for creating a cult of personality.
Elizabeth lived dangerously so that she and England could survive. England's principal enemies, France and Spain, enjoyed far greater wealth, influence, and military might. England had little chance of resisting a direct onslaught from them. Elizabeth relied, therefore, on guile, smokescreens, and confusion. She deliberately exploited the enmity between France and Spain, hinting at aid for one against the other, never committing herself, but always holding out hope. As long as she kept her enemies guessing, she could be reasonably sure that neither would risk a war on two fronts by attacking England.
Elizabeth was as famous a flirt as her mother, Anne Boleyn. She loved to surround herself with the most handsome men at court, and also entertained various foreign princes all hoping for her hand in marriage. Elizabeth used her femininity to bring a male-dominated court to its knees, and gave playful nicknames to her favourites. Her chief minister, Burghley, was called her 'spirit', and her alleged lover, Robert Dudley, Earl of Leicester, was her 'eyes'. Rather more cheekily, she called François, Duke of Anjou, her 'frog'
Elizabeth was always fastidious about her appearance, but the ritual of dressing the queen became increasingly elaborate as age began to overtake her: it took her ladies a staggering four hours a day to complete the ceremony of dressing and undressing the queen.
Elizabeth had originally worn wigs that matched her own colouring, but as she grew older these were used to conceal her greying hair. At the same time, ever more layers of makeup were applied to complete the so-called 'mask of youth'. Her face, neck and hands were painted with ceruse (a mixture of white lead and vinegar); her lips were coloured with a red paste made from beeswax and plant dye, and her eyes were lined with kohl.
Queen Elizabeth almost died of Smallpox in 1562 and was left with scars on her face – these were covered with the heavy white make-up which was fashionable at the time.
Even though she's remembered for her high fashions, it's surprising to know just how expansive Elizabeth's wardrobe was. According to one estimate, she may have owned as many as 2,000 pairs of gloves!
In addition to her native English, Queen Elizabeth I was known to be fluent in French, Italian, and Latin, going so far as to translate collections of lengthy texts into these languages. The Queen is also believed to have spoken Spanish, Welsh, Irish, Flemish, Greek, and the now nearly defunct tongue of Cornish.
Her finest hour came in 1588 when she defeated the Spanish Armada, catapulting her to legendary status.
Queen Elizabeth had a firm faith on astrology. On the way to Richmond Palace, by boat, she would often stop at Mortlake to sit on a wall, and chat with John Dee, her trusted advisor on astrological and scientific matters.
The date of Elizabeth's coronation was chosen as auspicious by the astrologer John Dee.
If the tabloids had existed in the 16th century, they would have had a field day with Queen Elizabeth I. She turned down proposals from the likes of King Philip II of Spain, King Eric XIV of Sweden, Archduke Charles of Austria, and French brothers Henry III and Francis, Dukes of Anjou.
Throughout her life, Elizabeth's one true love remained her childhood friend Robert Dudley, whose marriage to Amy Robsart kept the two from achieving Elizabeth's long desired union. Even after the sudden death of Robsart in 1560 Elizabeth resisted marrying her lifelong friend.
In addition to these many spotlighted proposals, Queen Elizabeth I found (and continues to find) herself the subject of plentiful rumours about secret love affairs, mainly to high-profile men: Aristocrat and writer Sir Walter Raleigh, Robert Devereux, 2nd Earl of Essex, and Lord Chancellor Christopher Hatton rank as her most noteworthy would-be loves.
Her devotion to stage led to an assortment of musings regarding her relationship to William Shakespeare. Some scholars surmise that the Queen had a personal kinship with the playwright, who alludes to her (quite amorously) in the second act of A Midsummer Night's Dream.
She was the only queen who never got married.
She is the final ruler of Tudor dynasty as she had no legal heir.
Her height has been estimated at between 5ft 3in and 5ft 4in, but she had very long fingers.
"Her face is comely rather than handsome, but she is tall and well-formed, with good skin, though swarthy," said the Venetian ambassador.
The Dictionary of National Biography reports that Queen Elizabeth had black teeth from eating too much sugar and took a bath once a month.
The personal motto on her coat of arms was "Semper Eadem" (always the same).
She never met her cousin and rival, Mary Queen of Scots, although she was imprisoned by her in 1554 on suspicion of abetting Wyatt's Rebellion, an uprising against Queen Mary.
She is known to have commissioned life-sized gingerbread sculptures of royal guests of honour.
She always had a cloth held up when passing the Tower of London, so that she did not see it.
She died at Richmond Palace, and was brought back to London at night, by boat along the Thames, with torches lit.
She is buried on top of her sister Queen Mary, in Westminster Abbey.
Elizabeth I might have been a man. Although she has gone down in history as the Virgin Queen, upon her accession it was widely expected that Elizabeth would marry. But as she continued to resist pressure from her councillors to take a husband, rumours began to circulate that there was some secret reason why she was so determined not to marry.
The first actress to play Elizabeth I on screen was Sarah Bernhardt in a silent film in 1912.