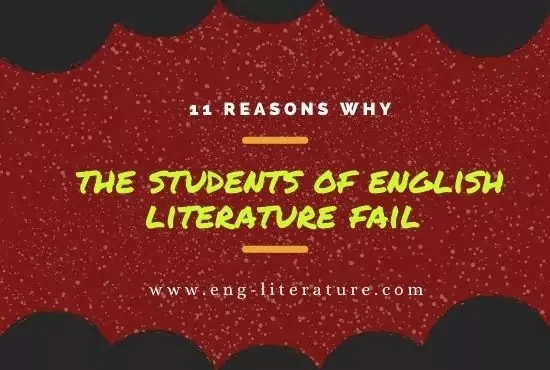 11 Reasons Why Students of English Literature Fail
Within my short span of teaching career I have made a small survey on the majority of beginners and students of English Literature entirely relying upon my own assumption. On entering into the degree course, raked up by emotion and excitement they used to believe that they are going to win the world by storm as they are pursuing such a ROYAL subject of international repute. As if they speak English, eat English, dream English, and live English and what's not. Yes they move by fashion rather than passion. They don't understand the basic difference between language and literature.
After attending few lectures their spur and zeal of learning English Literature is gradually getting slow and fading away. A few turn their wheel on the reverse direction, while others drive their car by merely pushing forward in a limping manner. That's the reason why they have to kiss the dust at last.
I have noticed so many students without text books while I was teaching on topic. And also I have seen a good number of students took books from library for show and after several days returned those without turning a single page.
Without a least trace of doubt that the steady and serious minded students guided by love and passion for English literature succeed in securing handy marks at the end and thus they win the race.
I have seen in many groups that boys and girls often complaint about their supply in B.A or M.A English. And those who pass the exam have very low marks.
Keeping in view the above fact I am sharing you some facts about their failure and low marks.
They join private tuitions or online academies where same stuff is given to hundreds of candidates. Stuff is given to the candidates to clear their main idea about the topic, to clear the concept and write in their own language. But most of the students remember the same stuff and paste it on the paper as it is. When an examiner checks the copy he finds that there is no creativity in the answerand it becomes the very first reason of failure.
Students focus more on mere reading rather than real reading. If Hamlet (Shakespeare's play) is there in the syllabus most of the student will not study a single word than the play. What is the background of the play? What is writer's ideology and inspiration behind the play? In nutshell, they don't focus on Why When and How of the play.
Cramming the note and vomiting on the answer paper is a quite common practice among the students. yeah this may be necessary for obtaining good marks. Remember at the end of the day, talent differs. Before cramming any note go through it minutely and understand the meaning, context, author's intention, structure etc.
Academies don't focus on making you creative rather they spoils you. They provide you stuff which is already in some books or there on internet. Ask you to remember that clear the story and their job is done. They don't tell you about the theories, they don't tell you about criticism being made on the play, novel or poetry. They don't ask you to go through different research paper on the same topic. They may be well-educated teachers but not well-trained for the purpose of teaching.
Procrastination is a deadly habit specially for the English Literaturestudents. They browse and collect notes and books and save those in the cart thinking they have enough time before exam. But finally they are trapped in their own crafted trap.
Only reading doesn't make you sense. There are quite a few students who only read and read and read. Writing earns your perfection. So after clearing a note go with your pen and paper. Besides writing helps your time management and boost your writing speed in the exam hall. So plant the habit of writing.
Students don't have writing skills. There are some students with exceptional ideas but they don't know how to pen down those ideas. They don't have stock of words. They are unable to write what is there in mind and ultimately in finding substitute for the words they make mistakes.
Lack of consciousness in English grammarskill may kill a student. So be serious about following strict grammatical rules. one or two minor or unintentional mistakes can be accepted. But extensive use of ungrammatical sentences is a serious offence in the lens of English Literature.
One of the major mistakes that English Literaturestudents commit is spelling mistake which has never been acknowledged even at this standard.
One must keep one thing in mind. There is no hard and fast rule for the success. If you want to have good marks in subject like English Literatureyou need to work hard.
It is good to collect material from books, notes, internet, pages, etc… But it's not enough. It only works if you will write answer of your own merging all the facts on a single paper sheet.
Also Read:
Why do Marks and Grades Not Everything in Your Life?
Don't forget to share your knowledge on this article in the comment section.