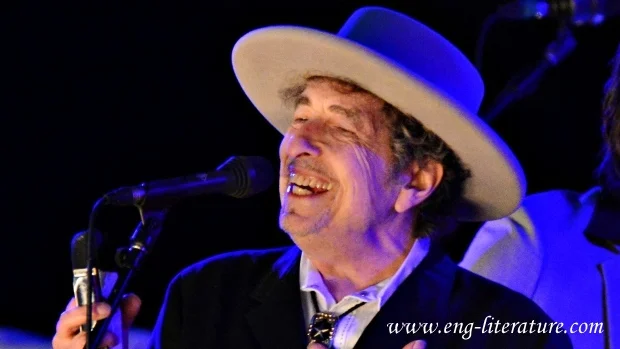 Jubilation has still been going on in the realm of Bob Dylan's fan. The U.S Songster, Dylan, 75, becomes the first musician in the 115-year history of the Nobel to win the prize in literature. He was honoured for "having created new poetic expressions within the great American song tradition."
Born Robert Allen Zimmerman in Duluth, Minnesota, in 1941, Dylan got his first guitar at the age of 14 and performed in rock'n'roll bands in high school. He adopted the name Dylan, after the poet Dylan Thomas, and, drawn to the music of Woody Guthrie, began to perform folk music.
He moved to New York in 1961, and began performing in the clubs and cafes of Greenwich Village. His first album, Bob Dylan, was released in 1962, and he followed it up with a host of albums now regarded as masterpieces, including Blonde on Blonde in 1966, and Blood on the Tracks in 1975.
"The frontiers of literature keep widening, and it's exciting that the Nobel Prize recognises that," Rushdie said. "I intend to spend the day playing Mr Tambourine Man, Love Minus Zero/No Limit, Like a Rolling Stone, Idiot Wind, Jokerman, Tangled Up in Blue and It's a Hard Rain's Gonna Fall."
Here are some of his most popular quotations that are normally extracted from his heart moving lyrics.
A man is a success if he gets up in the morning and gets to bed at night, and in between he does what he wants to do.
Don't criticize what you can't understand.
He who's not busy being born is busy dying.
Behind every beautiful thing, there's some kind of pain.
I accept chaos, I'm not sure whether it accepts me.
I'll let you be in my dreams if I can be in yours.
All I can be is me- whoever that is.
I define nothing. Not beauty, not patriotism. I take each thing as it is, without prior rules about what it should be.
If the point is sharp, and the arrow is swift, it can pierce through the dust no matter how thick.
Life is more or less a lie, but then again, that's exactly the way we want it to be.
No one is free, even the birds are chained to the sky.
Play it fuckin' loud!
Some people feel the rain. Others just get wet
Swallow your pride, you will not die, it's not poison.
When you've got nothing, you've got nothing to loose.
If you want to keep your memories, you first have to live them.
You can never be wise and be in love at the same time.
When you cease to exist, then who will you blame?
Every pleasure's got an edge of pain, pay your ticket and don't complain
To live outside the law you must be honest.
All the truth in the world adds up to one big lie.
You don't need a weather man to know which way the wind blows.
There is nothing so stable as change.
If I had wings and I could fly,
I know where I would go.
But right now I'll just sit here so contentedly
And watch the river flow.
Also Read: