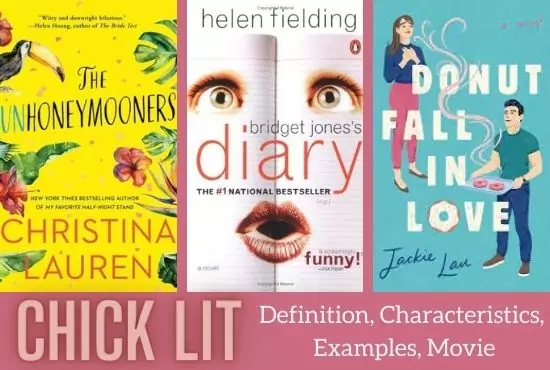 Chick Lit
Chick Lit Definition
Chick Lit is a genre of fiction concentrating on young working women and their emotional lives. Longman Dictionary of Contemporary English defines chick lit as the "books about young women and the typical problems they have with men, sex, losing weight etc, especially books written by women for women to read – used humorously." Chick lit is portmanteau of the American slang words "Chick" for a young woman, and "lit", the shortened form of literature.
Chick Lit Meaning
It addresses issues of modern womanhood, often humorously and lightheartedly. The genre gained popularity in the late 1990s, with chick lit titles topping bestseller lists and the creation of imprints devoted entirely to chick lit. Although it sometimes includes romantic elements, chick lit is generally not considered a direct subcategory of the romance novel genre, because the heroine's relationship with her family or friends is often just as important as her romantic relationships.
To put more simply, Chick lit is a genre comprised of books that are mainly written by women for women. These books range from having main characters in their early 20's to their late 60's. There is usually a personal, light, and humorous tone to the books. Sometimes Chick Lit are written in first-person narrative while at the other time they are written from multiple viewpoints. The plots of chick Lit carry things like women experiencing usual life issues, such as love marriage, dating, relationships, friendships, roommates, corporate environments, weight issues, addiction, and much more.
Also Read:
Chick Lit Characteristics
The characteristics of Chick Lit as compiled by Sue O'Brien of Downers Grove Public Library run as:
Written by women for women First person, e-mail, diary format-personal voice (confiding to reader)
Humor is important
Discuss life issues (love marriage, dating, relationships, friendships, jobs, weight)
Circle of friends for support
Dead end jobs they usually hate, often with bad bosses
Unsuitable boyfriends or a lack of one
Urban-but no real sense of place
Outrageous situations
Main character drifting through life
May have overbearing/interfering mother, family
Obsessed with fashion, weight, shopping
Examples of Chick Lit
Chick lit Books like Helen Fielding's Bridget Jones's Diary and Candace Bushnell's Sex and the City are examples of Chick Lit. The success of Bridget Jones and Sex and the City in book form established chick lit as an important trend in publishing. The Girls' Guide to Hunting and Fishing by Melissa Bank are regarded as one of the first chick lit works to originate as a novel (actually a collection of stories), though the term "chick lit" was in common use at the time of its publication (1999). Serena Mackesy's The Temp appeared in the same year. A few more books containing Chick Lit themes are as:
The Boyfriend School by Sarah Bird, 1989
Girls in Pants: The Third Summer of the Sisterhood by Ann Brashares, 2005
Amanda's Wedding by Jenny Colgan, 1999
Wanderlust by Chris Dyers, 2003
The Rose Revived Katie by Fforde, 1996
You Have to Kiss a Lot of Frogs by Laurie Graff, 2004
Help Wanted, Desperately by Ariel Horn, 2004
The Devil Wears Prada by Lauren Weisberger, 2003
6 Best Chick Lit Movies of All Time
The Hot Chick (2002)
Pitch Perfect (2012)
Mamma Mia (2008)
Never Been Kissed (1999)
Bride Wars (2009)
Grease (1978)
*****Disclaimer***** This website is designed to provide free notes and study materials on English Literature. The prime aim is to help financially weaker students for their ready references. Since lot of different content writers write and contribute articles for this websites, it's quite tough to check and verify the originality and uniqueness of the content. There may be few contents which are directly or indirectly copied/ plagiarized from other websites/ books/ journals etc. If such type of issues be noticed please don't forget to inform us. We will immediately remove the content from our website. Our mailing address is
[email protected]