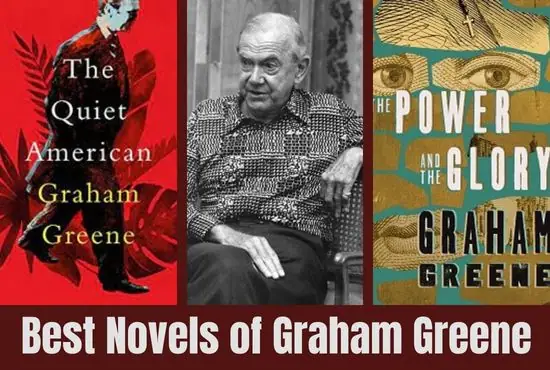 Most Famous Novels of Graham Greene
Graham Greene was an English novelist, short-story writer, playwright and journalist. His novels represent the moral ambiguities of human life in context of contemporary political setting.
The first book, he had published was a verse-book named Babbling April (1925). He got his first success in 1929 with his novel The Man Within (1929). Greene began to get fame through his thriller Stamboul Train (1932). This work was published under the name Orient Express that reflected various characters against each other in a train from English Channel to Istanbul. "This was the first of a string of novels that he termed "entertainments", works similar to thrillers in their spare, tough language and their suspenseful, swiftly moving plots, but possessing greater moral complexity and depth." (Encyclopedia Britannica)
This work was followed by three other popular works: A Gun for Sale (1936) The Confidential Agent (1939) and The Ministry of Fear (1943). His novel The Third Man was originally written for a classic film directed by Coral Reed. All these works were also adopted for making films.
During World War II, he worked for foreign office and moved to Freetown with Sierra Leone and got location for his another novel The Heart of the Matter (1948). The book depicts the miserable life of a British colonial Officer whose sympathy for his wife and mistress took him to commit suicide. His another novel The End of the Affair (1951) depicts the love story in which the woman forsakes her lover because of a religious conviction.
Also Read:
His next three novels are influenced by the political upheaval. A Burni-Outcase (1961), The Quiet American (1956) and Our Man in Havana (1958) present the government, the communist revolution and all other political activities going around the life of Greene. His last four novels: The Honorary Consul (1973), The Human Factor (1978) Monsignor Quixote (1982) and The Tenth Man did not have much distinction and announced his retirement from novel-writing.
8 Best Novels of Graham Greene
#1 A Gun for Sale
It was first published in June 1936 in US under the name This Gun for Hire but later in July 1936 it got its present name A Gun for Sale. Raven is a character who is devoted to underworld. He got the offer to kill the minister of war for 200 pounds that changed his life. He becomes a man on run and begins his journey to catch the person who had double crossed him by giving him stolen notes. The police was after him so he becomes both 'the hunter and the hunted. Raven's mother committed suicide so he was brought up in an orphanage. He became a heartless man and chose the profession of a murderer. Things went on as he planned and he received his money but when he bought something from that money he got to know that he was cheated and was hunted by the police for paying false money. Meanwhile he met Anne who showed trust on him. They both ran away but police was tracking them down and planned to attack then at the sunrise. Raven managed to escape but Anne was caught. She told the police that the stolen money was not of Raven but the police did not believe her. Raven reached at his boss' office and killed him and his employee but himself shot by the police. Later on, the police got to know the truth.
#2 The Power and the Glory
The novel is about a Roman Catholic priest who is named as the whisky priest and lived in Mexican state of Tabasco during 1930. During this time, the Mexican government was active to suppress Catholic churches. The priest makes a quest for dignity and in the end gains a real holiness. The other leading character is an unnamed police lieutenant who despises church and has the task to search this priest. While escaping from him, the whisky priest entered into a neighbouring province and met the mestizo who persuades him to listen the confession of a dying man. The whisky priest could felt that it is a trap but still moves ahead to fulfill his duty. The lieutenant arrests him and commits that he has no personal issue with the priest as a man but as a priest. He is executed and the same day another priest enters the town to symbolize that Catholic Church will never subside.
#3 Journey without Maps
This novel describes the visit of Greene to Liberia whose interior was unmapped in 1935. Greene started from Northern most point to South Eastern direction crossing the jungle highlands. He stayed at many places like Zorzor, Ganta, Grand Bassa, Monrovia, Zigiter and several others. Liberia was not much modernized and Greene met a number of people: American, English missionaries, a German adventurer, gold seeker and beach combers. He got ill and discovered the importance of life. This trip changed his life and provided material for his forthcoming works. This novel enclosed several experiences of Greene during his visit to Liberia in 1935.
#4 The Confidential Agent
It is a thriller novel that Greene had written in six weeks only. He hired a room on rent to avoid any type of interference that is included in the novel as an apartment where D hid for a day. D is the protagonist who belongs to a country where civil war is going on. Though Greene has not mentioned the name, history and geography of the country but an attentive reader can understand that he is talking about Spanish Civil War. "Like Spain the country in The Confidential Agent is embroiled internally in bitter factional fights while fighting a brutal civil war and a land-owning aristocracy determined to destroy the republic to regain its centuries old privileged position."
#5 The End of the Affair
The novel narrates story about Maurice Bendrix who somehow represents Greene and Sarah Miles whose character mirror the image of Greene's mistress Catherine Waltson. Sarah was married to Henry and leading an uninteresting wedding life. Bendrix and Sarah began to love each other but due to her beliefs she was not ready to divorce Henry. This arose jealousy in Bendrix. A bomb blast happened at Bendrix's place and Sarah left him for no reason. Henry could smell something fishy in his wife's life and Bendrix wanted to know about the new lover of Sarah. He got her diary that informed him that she thought that Bendrix was dead after bomb blast and made a promise to God that she will never see him again if He allowed life to Bendrix. Sarah died because of lung infection leaving Bendrix in confusion who began to believe in the existence of God though have no love for Him.
#6 Stamboul Train
The novel narrates the journey of the passengers on a train that makes a trip from Ostend to Istanbul. Though they are travelling for different purposes, they are bound to one another in this journey. Myatt is a businessman who gave ticket to sick Coral Musker who in return spends a night with him. Dr Czinner is a socialist who is travelling to Belgrade to stand trial as a political gesture. A journalist named Mabel Warren followed him and Czinner pretended to leave the train at Vienna to stop Warren. At Vinnea, Warren got down of the train and her bag was stolen by Josef Grunlich, who had killed a man. He also boards the train but at Subotica arrested by the police along with Czinner and Musker. During a court martial, Cziinner gives political speech and sentenced to death. All of them are kept in waiting- room where Myatt came back for Musker in a car. All of them tried to escape but only Grunlich gets success, Czinner is shot and Warren took Musker with her to make her new partner. The novelist last describes Musker having heart-attack in the car and has not revealed her ultimate fate. The train finally arrived at Istanbul. Myatt realized that Pardoe is the niece of Stein and decided to marry Pardoe to seal the contract with Pardoe.
#7 Brighton Rock
His another novel Brighton Rock (1938) has entertainment qualities with criminal protagonist who struggles throughout the novel to settle down the evidence for the murder, he did in the very first chapter of the novel. "In this book, Greene contrasts a cheerful and warm-hearted humanist he obviously dislikes with a corrupt and violent teenage criminal whose tragic situation is intensified by a Roman Catholic upbringing." (Encyclopedia Britannica)
Greene's final work, The Pamphlet J' Accuse-The Dark Side of Nice (1982) discusses a legal matter that he was facing in Nice.