On an academic level, essay writing is very important. It has a lot of advantages. Most of the time, students find it difficult to write creative essays.
It is because you have to do a lot of research before writing on any topic. but there are several points one should keep in mind before writing an essay.
On the academic level, all the students are given a topic to write an essay on. Because of this reason, there are many chances of plagiarism in the essay.
No matter if the plagiarism is accidental or not, it will destroy your reputation.
So to avoid this problem, students proofread their essays to remove duplication before submitting their assignments.
In this article, we will learn how to write plagiarism-free essays and how to check plagiarism of essays using tools.
How to write a plagiarism-free essay
The main question that arises in our mind is how can we avoid plagiarism in the first place.
So the answer is 'creativity'. Creativity is the key to success. If you want to write unique essays, you need to be creative with your thoughts. Think out of the box.
But for this, you need to have a strong grip on your knowledge. Collect as much information as you can from other sources. Keep your research game strong.
The more accurate research you have, the more will be chances of an extraordinary assignment.
After completing the data about your work, the next step is writing. Your statements must be appealing and worth reading.
Add some quotations in your essay and don't forget to cite the source. It will grab the attention of the reader.
Avoiding plagiarism
Even after completing the research process and giving your best in your assignment, there might be chances of duplication. It is because when we read articles of other authors and visit websites, some phrases are caught by our mind.
There are possibilities that we write the exact phrase. It can create problems. So there are two methods by which we can completely abolish the chances of plagiarism from our content.
·         By manual methods
We can lessen the chances of duplication by using manual methods. After writing every essay, always remember to proofread it thoroughly before submitting it.
In this way, our eyes will catch the mistakes and there will be no chances of plagiarism.
·         By using free tools
Proofreading is a good method as long as you have a lot of time. but At the academic level, you don't have enough time to write an assignment and then proofread it.
It is a complete waste of energy and time.
Just like technology has changed the life of mankind, in the same way, these duplication detectors have made the life of students easy.
These tools automatically detect the copied content and remove it.
Here we will discuss the best duplicate detectors that are going to change the life of students.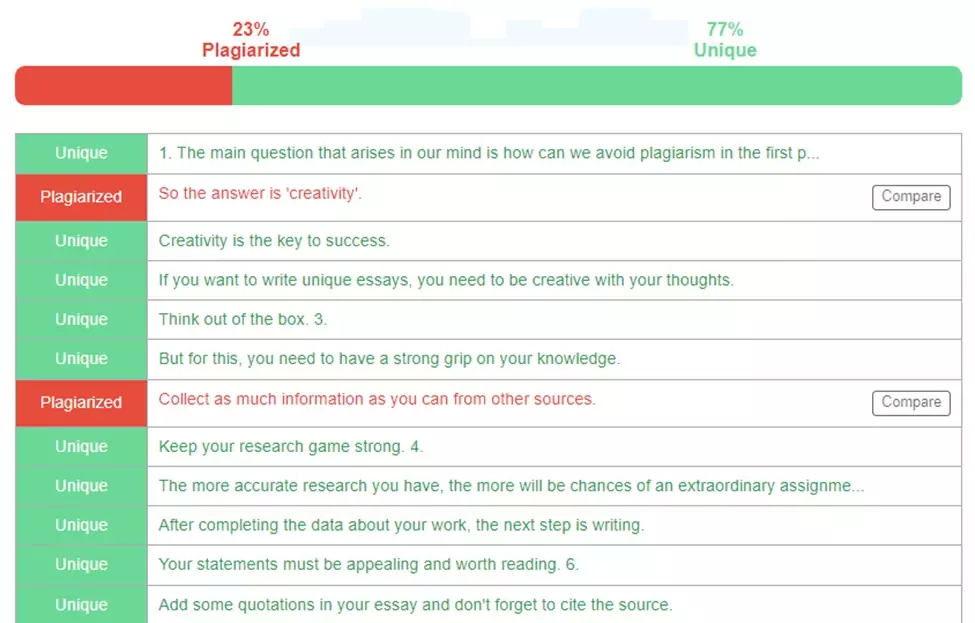 It is one of the best and free online tools to detect the copied content from your files.
It scans the document and then compares it with online databases and related content on other websites to detect plagiarism.
After removing the copied content, it generates the report of the file.
How to use this tool
The working of this tool is simple. There is an input box in which you have to copy/paste the document.
you can also drag or upload the file from your device.
Click the button "check plagiarism"
Features of editpad.org
Following are some amazing features of this tool.
·         File support
There is no restriction on files. You can upload the file directly from your device in any format i.e;  DOC, DOX, PDF, etc.
·         Percentage of results
One of the best features of this tool is that it tells the exact percentage of plagiarized content and the unique content. in this way, you can easily predict the quality of your content.
·         Words limit
More than 1000 words can be checked easily to detect plagiarism using this tool. It is free of cost.

This is a very famous tool used by bloggers, teachers, students, and authors to improve the quality of content and remove plagiarism. this tool has an advanced algorithm that scans the file and then detects the copied content.
in addition to this, it also provides the link to the source from which the content was taken.
How to use this tool
The interphase of this tool is very easy. Just copy the text and paste it into the box.
You can upload the file directly from your device.
If there is any specific URL that needs to be excluded, click on the "Exclude URL" button.
Select the language in which you want to check the plagiarism.
Hit the button "check plagiarism".
Features of prepostseo.com
Following are some brilliant characteristics of this tool:
·         Chrome extension
It provides you with a google chrome extension. It means you can check your files directly online on google chrome.
·         Ensure the safety of your documents
Most of the time, students do not use these tools because safety purposes. This tool assures the complete protection of your file. The files are not saved and your privacy is respected.
·         Make it unique
It also gives you this amazing option of making your content unique. Once you are on with checking plagiarism, click on the "make it unique" button. It will paraphrase the text and increase the quality of the content.
·         Supports multiple languages
This tool support multiple languages. It means you can check your assignments in other languages as well. It offers you to detect plagiarism in French, Dutch, Spanish, and English.
Bottom lines
If you want to get a ranking at the academic level or in the digital marketing campaign, it is necessary to be unique.
Always put your efforts into writing your essays. The only thing that matter is the quality you are providing to the readers.
Informative and influential texts are always appreciated. So, never compromise on the quality and be exclusive with your thoughts.
Also, Instead of doing hard work, prefer smart work. It will save your time, energy, and effort.
These tools are Al-based with modern algorithms and features. They will improve the quality of your content and make it 100% inimitable.