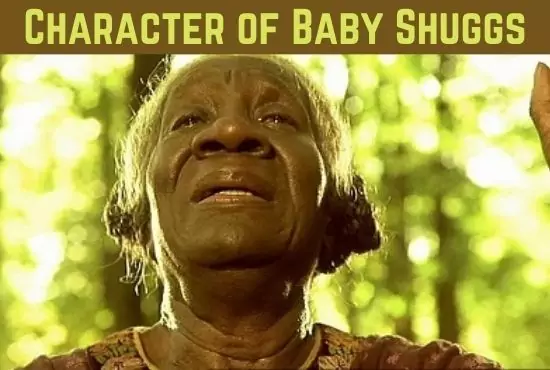 Character Sketch of Baby Suggs in Beloved
Chronicling a non-linear account of almost five decades of Sethe's life, Beloved begins in the year 1873 after the death of Baby Suggs, Sethe's mother-in-law and an ex-slave herself. But Baby Suggs is present throughout the novel. She celebrates Sethe's reunion with her children. In portraying her character, Toni Morrison is interested in not only the surviving but in the "wholeness of entire people, male and female".
Halle, the last of her eight children from six different fathers, had bought her freedom after five long years of hard work on weekends. She lived "sixty years and ten years free". These were her last words when she died. But when she was freed, she reached the outskirts of Cincinnati and became a beacon light to the entire black community. At that time 124 had been "a cheerful buzzing house where Baby Suggs, holy, loved, cautioned, fed, chastised, and soothed".
It is ennobling how through her own experience of slave life, Baby Suggs had attained a deep understanding of the travails of the blacks. After emancipation, she wanted to build a strong community of blacks because slave life had "busted her legs, back, head, eyes, hands, kidneys, womb and tongue, she and nothing left to make a living but her heart which she put to work at once." She was the best loved and most sought after among her people.
Baby Suggs reinvented herself, her being, and inspired others to follow suit. Thus she attained the status of "becoming" from the state of being "Accepting no title of honour before her name, but allowing a small caress after it, she became an unchurched preacher one who visited pulpits, and opened her great heart to those who could use it." The maturing quality of mother in Baby Suggs is symbolically portrayed and juxtaposed with that of Sethe, who kills her child because she does not want it to lead of life of slavery.
The lesson Baby Suggs learnt and taught to all- men, women and children – was "love your heart". The men were asked to dance before their wives and children; women were told to cry; and children were told to laugh, so that their mothers could hear them laugh. Baby Suggs advocated loving their heart above all the other parts because "this is the prize." Thus, her plea was replete with compassion for her brethren.
Also Read:
When her daughter-in-law Sethe joined her, Baby Suggs offered her ample consolation. She told Sethe to lay all misery, sorrow, and shock of losing her husband Halle aside. For nine years, Baby Suggs soothed her by passing fingers and the quiet instructive voice. Thus, a defence mechanism was developed between the two black women to stand by each other as white slave-catchers perpetually haunted them to catch the runaway slaves.
Exactly twenty-eight blissful days after Sethe's arrival at 124 Bluestone Road, Baby Suggs's "faith, her love, her imagination, and her great big old heart began to collapse" – an account of the black community ostracizing her when they learnt of Sethe's infanticide. The picture totally changed at 124 after nine years, when "Baby Suggs. holy, proved herself a liar, dismissed her great heart, and lay in the keeping room bed, roused once in a while by a craving for color and not for another thing". The long, coveted dream of a happy reunion came to a halt.
"Baby Suggs, holy, believed she had lied. There was no grace – imaginary or real."
When Paul D learns of Baby Suggs's death, Sethe tells him she died "soft as cream". For her "being alive was the hard part". But before she died, Baby Suggs had experienced "the wonder of possessing her own body, of recognizing the founding of her own heart". She renamed herself Suggs (her husband's name), rejecting Garner's defence of the legal name on her bill of sale, Jany Whitlow.