Writing a piece of literature in English requires you to be extremely proficient in the language. Even if you're someone who's got exceptional writing skills, there might be times when errors can get overlooked in the process of writing.
Errors in a piece of literature can make it look amateurish and you might face difficulties if you try to get it published. Whether they are grammatical mistakes or issues in readability, these errors have to be fixed once you're done with the writing session.
Catching grammatical mistakes can take a long time since you'll have to go through the entire literary text and read everything carefully. But there's something that can help you do it quickly and effectively. You can use an online grammar checker tool for this purpose.
Tools like these can conduct an English grammar check in an instant and can catch any errors if they're present. The tool in question will also fix those errors for you.
In this article, we're going to have a detailed discussion of all the errors a grammar checker can fix and why you should opt for using it rather than fixing mistakes manually. But before we get into that, let's take a look at what a grammar checker really is.
What is AI Grammar Checker?
An AI grammar checker is a tool that works on AI algorithms to check and fix the grammatical mistakes that can be present in a piece of text. Tools like this work in real-time and can scan a huge chunk of text quickly and effectively.
You can use a grammar checker to save yourself a huge amount of time by letting the tool fix mistakes for you. The tool can also give you suggestive words that you can use in place of the already written ones.
Below we have given a list of errors that you can avoiding English literature by using a grammar checker.
1.      To Avoid Grammar Errors
Having perfect grammar with no mistakes in a piece of literature is important to convey the accurate meaning to the reader. Perfect grammar can also make literature easier to read for the reader.
Keeping this in mind, it is always recommended to avoid grammar mistakes in a piece of literature. Using an AI grammar checker for this purpose can be a quick and easy way to make sure that the piece of writing in question is free of any grammatical mistakes.
If the grammar checker finds any grammar errors in your writing, it will fix them in an instant.
Take a look at this screenshot we attached to understand what we're talking about.
The grammar checker effectively caught the mistake and highlighted it to point out the error. Along with this, the tool suggests the word that should be used to make the phrase grammatically perfect.
An AI grammar checker can be used like this to avoid any mistakes of grammar in a piece of literature.
2.      To Avoid Punctuation Errors
Having correct punctuation in a piece of literature is important as it can add clarity and accuracy to the writing. Punctuation also allows the writer to pause and put emphasis on a certain part of a text.
Imperfect punctuation in English literature can change its whole meaning. Making use of an AI grammar checker can be a great way to ensure that a piece of literature doesn't have any punctuation mistakes.
Here's a screenshot that shows the grammar checker pointing out punctuation errors.
It was successful in pointing out the single punctuation mistake that occurred in the passage. This can be a good reason to consider using an AI grammar checker to avoid punctuation mistakes in a piece of literature.
3.      To Avoid Spelling Errors
Having perfect spelling in literature can show professionalism and increase the credibility of the writer. It can also give a reader the notion that you respect their time and have put your heart in soul into a piece of writing.
It can also make it easier for the writer to get a piece of literature published, as publishers usually proofread it to look for spelling mistakes.
Having imperfect spellings in literature can be embarrassing for the writer. To prevent this from happening, however, it's best to use an AI grammar checker to remove any spelling errors (if present).
To demonstrate, we're attaching another screenshot that displays the grammar checker pointing out spelling mistakes.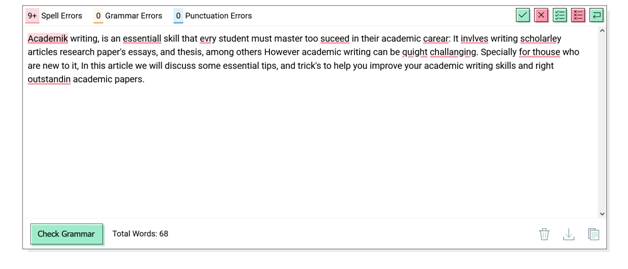 Even if you're confident that a piece of literature does not have any grammatical mistakes, it is recommended that you still check it. You can use an AI grammar checker for this purpose, as demonstrated above.
This can not only save you time but can also save you hundreds of dollars from going down the drain in the process of publishing.
Conclusion
An AI grammar checker can be great for eliminating or avoiding grammatical mistakes in English literature. This article focuses on some of the benefits you can get from using it and why you should consider using a grammar checker in literature.