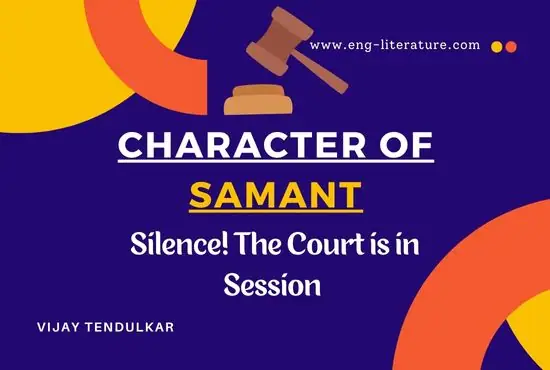 Character Analysis of Samant in Silence! The Court is in Session
In Tendulkar's Silence! The Court is in Session Raghunath Bhikaji Samant plays a significant role in respect of opening and ending the play. It is he who takes Miss Benare and other members of the Sonar Moti Progressive Association to the village community-hall where the mock-trial of American President Johnson is scheduled to be held at night. And with his act of placing the green cloth parrot before Benare the play almost comes to an end. So his ubiquitous presence on the stage is noticeable- sometimes as an introducer, sometimes as an interpreter, sometimes as a bearer, sometimes as a witness, sometimes as a spectator, sometimes as a sympathizer, and finally as a man of good sense. This shows his subjectivity is in process. To begin with, he acts up to the expectations of other people but finally he constructs his own identity by his own choice. Guided by his common sense he joins in the game of entertainment, but as his good sense develops out of his watching a painful predicament of an unmarried expectant woman he resists the patriarchal hunt for that helpless woman with a good gesture of sharing her burden.
The outsider Samant gradually turns an insider in the course of the play. Though he lives in a village, he is not inferior in intelligence to the urban people, but different from them in his attitude to life. Unlike the urban people, he dislikes to jettison his life in any sort of complexities. He wants to enjoy life with altruistic feeling. The cloth parrot that he has bought for his nephew is a case in point. In addition, he gets pleasure watching magic shows, theatre, as well as reading sensational novels. Having no dearth of income, yet he likes to lead a bachelor's life. Why he is still unmarried, he does not know. He is well aware of the social status of the village women who, he narrates to Benare, perform only devotional songs like bhajan on the stage after their chores at night fall. But when other programme is scheduled to take place on the stage, their programme is marginalized. Unlike the actors and actresses of the Progressive Amateur Theatre Association, he has no mission to disseminate enlightenment ideas. He seems to equate life with magic, which is something yet nothing, nothing yet something. Symbolically when the tongue is cut off, voice being gagged, life loses significance, and when the tongue remains and articulates, life gets meaning. It is not body, but talking that gives him delight. He derives pleasure from his conversation with Benare, but the latter's act of flirtation and seduction does make no effect on him. Through their conversations Tendulkar focuses on Samant's love for his mother and Benare's for independence, teaching and school children.
However simple, innocent, affectionate, devoid of urban complexities and sadism, Samant came with an intention to be the spectator of the mock-trial of American President Johnson, but his choice is altered by the persuasion of the actors and actresses of Sonar Moti Progressive Theatre Association. Due to the absence of two regular actors, he is chosen as the fourth witness. But the urban people who call themselves progressive reveal their meanness by exploiting his friendliness, goodness and acquiescence. They order him to fetch pan, beedis, tea, cigarettes, and like an obedient bearer he carries out their order. In the meantime Tendulkar, through him, focuses on a topical issue of sugar crisis occurred during 1960s, as a result of which mostly the people in the villages turned to the use of gur for making tea.
Also Read:
Chosen as the fourth witness and plunged in the game of mock- trial of a woman, Samant treats it lightheartedly and likes to be carried away by it for an entertainment without knowing that the cup of game would be filled with poison. His common sense fails to understand the machinations of the urban actors and actress who are failure in real life. He does not yet know that they will use one of their associates as site to enact their unfulfilled desires. Finding himself amongst them he enjoys fun, jokes, banters, jibes and retorts in the courtroom. Even he dares to protest against Sukhatme's suspicion of Benare's character with an argument that when he was alone with her before their arrival on the stage, he did not find any indecency in her character.
But once Samant is forced to presume the role of the fourth witness, he loses all control and unwittingly plays their game which is not at all a game but a hunt. After Balu's witness, Samant is jettisoned in the midway to continue from the point where Balu Rokde left and inform the court what he saw at Prof Damle's house after Balu had left that place. Samant is flabbergasted. He exclaims how he can know about Prof Damle while he lives in a village and the latter in Bombay. Then being tricked to presume certain things in the court, he changes the colour and dimension of the mock-trial. In the course of giving witness he foregrounds his own sense of humour, creative and interactive power. In making him read out a set piece from a novel and fit it in a courtroom situation Tendulkar tries to remove the boundary between the real world and the fictional world. By this Tendulkar also means to say that the reality of the victimization of women by men reaches us through discourse because, as Foucault says, we cannot reach the world but the world reaches us through discourse.
Samant gives an excellent piece of witness. He secretly reads out a set piece from a novel which resembles Benare's affair with Prof. Damle. Samant also identifies himself with the hero of the novel with the emphasis that 'he' means 'me'. Treating the whole testimony as a joke, an absurdity, he goes on impersonating the hero of the novel. As he says,
"I rang the bell. The door opened. An unknown man stood before me. Guess who it was. Proffessor Damle! I was seeing him for the first time. So he'd be unknown to me, wouldn't he?"
Prof Damle came out and asked him whom he wanted. In reply he told him he wanted to meet Prof Damle, but the latter denied Damle's presence in the house and slammed the door shut. He then stood there stunned. He could not decide whether he would return home or press the bell again because he had an important errand. He stood there, wondering how he could go back without arranging the lecture by Prof Damle. Then he heard a woman cry inside. He guessed the woman was not the member of his family because the cry was soft. He also heard the woman say if he abandoned her in such a predicament where she would go. In reply, the man said that he could do nothing for her washing all sin from his hand.
In desperation the woman then said that she had no other alternative than to commit suicide and in that case he would be responsible for the murder of two souls: the soul of a woman and that of the baby growing in her womb. The man then valorizing his own reputation over the protection of two lives denied downright having any responsibility for her crisis. In this way, Samant emphatically asserts that the man was Prof Damle and the woman, Miss Benare. Against his assertion of Prof Damle's and Benare's identities Benare overreacts, saying that he is telling barefaced lies. Giving a terrifying laugh Samant confesses before all that he was reading out from a novel, but it is not known to him that the game has already changed its dimension and colour. Benare allows her to be entrapped by the self-appointed social crusaders when she tries to leave the hall and finds that the door is locked from outside. It is Samant who unknowingly lands her in the claustrophobic atmosphere.
However, Samant gradually gathers good sense observing the torture on a woman made through several irritating interrogations. He then has nothing to do for her than to show sympathy:
"Dear, oh dear! Is she going to lose her job?"
His good sense develops from seeing harsh activities of the urban middle- class people in the courtroom. Instead of being constructed by their choices, he now learns to construct his identity by his own choice. Though now marginalized in the role of a mere spectator, he realizes that the game is no longer a game; if it were so, Benare would not have tried to commit suicide by gulping TIK-20. Perhaps his good sense develops when he finds the rule of law keep Prof Damle out of punishment. Perhaps his love for his mother drives him to take side with another expectant woman. It does not matter to him whether she is unwed or wed mother. Perhaps with this feeling for other he places the green cloth parrot before Benare- the sight of which makes effect on the latter; she stirs a little.
In making him put the parrot in front of her, Tendulkar seems to invoke that there are some pro-woman persons like Samant who are willing to give protection of the helpless women like Benare. Here it is pertinent to refer to Raymond Williams' observation on culture. As he argues, in any cultural moment there can co-exist residual, emergent and dominant elements. The dominant elements may be the powerful one, but there can be traced some less powerful elements that either resist the dominant culture or run counter to it. In making Samant contrast the complex sadism of the urban characters and betray a good gesture towards Benare, Tendulkar explores an emergent culture in opposition to the oppressive dominant one.