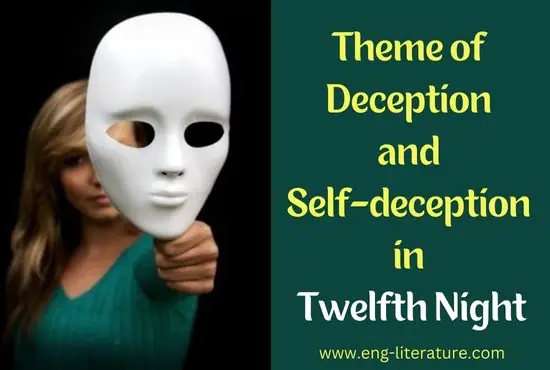 Theme of Deception and Self-deception in Twelfth Night
The play, Twelfth Night has the theme of masking and unmasking. Characters practice deception on other characters, and some characters deceive themselves without realizing that they are doing so. Deception is a conscious and deliberate act, but self-deception is unconscious and involuntary.
The Duke's love for Olivia is a kind of self-deception. He professes love for Olivia in extravagant poetic language. He thinks that he loves Olivia more than any woman can love a man. He speaks about her in glowing terms as 'that miracle and queen of gems.' He parades that his love is a noble passion, while woman's love is mere appetite that suffers surfeit and decay. This boastful display of love is a kind of sentimental pose, and it is self-deception. We discover the shallowness of his love at the close of the play when he transfers his love from Olivia to Viola. He has been love with love, and he has merely deceived himself with the fancy that he is deeply in love with Olivia.
Malvolio is a self-deceived man. He believes that Olivia has amorous feeling towards him. Olivia has been kind towards his steward, but this kindness and polite attentions to him are interpreted as love, and as Olivia's desire to acquire him as her husband. It is Malvolio's self-love and vanity that lead him to this kind of self-deception. He begins to look upon himself as 'Count Malvolio' and begins to treat Sir Toby with contempt and the household servants with the severity of a master. His self-deception is pure fiction inspires by his self-confidence and self-conceit.
Also Read:
Viola's male dress is a kind of deception- she puts on it for self-defence. It deceives all the characters. The Duke thinks that Cesario (Viola in male dress) is a handsome youngman with pleasing manners and he makes use of him to send his messages of love to Olivia. Olivia is deceived by the male dress of the woman, and she is drawn to Cesario and becomes infatuated. Olivia suffers agony of love because Cesario is indifferent to her. Olivia makes a complete surrender to Cesario and frankly confesses her passion. Viola is puzzled, because she did not anticipate this development as a result of her male dress. She puts on the disguise only to protect herself against any possible threat to her honour as a woman in an alien country. She has intended no harm to anybody by assuming this disguise.
Olivia becomes the victim of another deception-resemblance between Viola and Sebastian. She mistakes Sebastian for Cesario and gets him betrothed to her. While Cesario has been unresponsive to her pleadines Sebastian as man easily accepts the amorous proposal, although he is puzzled at first. Sebastian deception is unintentional, and causes no harm-rather it resolves the complications between Cesario and Olivia.
On the other hand, the deception practised upon Malvolio by Sir Toby and others is intentional and is motivated by the desire for revenge and by a desire to teach him a lesson. Malvolio is a victim of self-deception by his self-love and vanity. So it is easy for Maria to lay a trap for him by forging a letter as if it is written by Olivia. This strengthens and confirms Malvolio's foolish notion that Olivia loves him and desires him as her husband.
Thus Maria's deception to Malvolio is aided by Malvolio's self-deception Malvolio appears before her in his yellow stockings, duly cross gartered and with an endless smile on his face. He cuts a ridiculous figure and is condemned to a dark room for his 'midsummer madness'. Maria's deception of Malvolio is approved by all in the household of Olivia, because they are annoyed with his peremtory interference in their merrymaking. Malvolio is thus a victim of self-deception and of deception practised on him by others.
Disguise leads to deception that causes misunderstanding. Antonio becomes the victim of deception due to the disguise of Viola. When Cesario and Sir Andrew are about to fight a duel, Antonio appears on the scene and becomes ready to fight on behalf of Cesario whom he mistakes for Sebastian, his friend. He is arrested by the officers of the Duke not only for being involved in a brawl but also because he is an old enemy of the Duke. Cesario refuses to acknowledge him as a friend and Antonio becomes angry and accuses Cesario of ingratitude. This is a kind of deception that causes misunderstanding, complications, errors and distress.
The clown, Sir Andrew, Sir Toby and even Olivia become victims of this deception which arises out of the male disguise of Viola. It is a stage device for creating complications, but this is a symbol of confusion between appearance and reality.
Another deception that causes a lot of comic complication is that practised by Sir Toby on Sir Andrew. This is prompted by the selfish interest and by a desire to exploit him financially. Sir Andrew is deceived to believe that he can win Olivia as his wife by wooing her steadily and promptly. Sir Andrew spends money on Sir Toby's drinks and begins to imagine that he would marry Olivia. He becomes jealous when Cesario receives favour from Olivia. Sir Toby instigates him to challenge Cesario to a duel. Thus this deception leads to a lot of innocent fun and mirth.