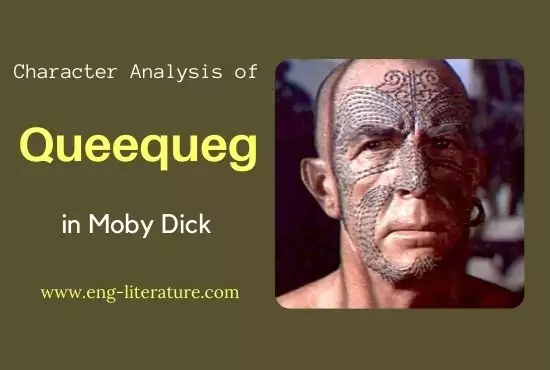 Queequeg Moby Dick
Queequeg is a native of the island of Kokovoko. Melville's experiences on the Marquesan islands, about which he writes in Typee, must have led to the creation of his character. Queequeg is a cannibal with a terrifying appearance. He is a harpooner attached to Starbuck. His whole body is tattooed. He worships a wooden image according to his heathenic rites. He comes of a royal family on his island and has the heart of a king.
His tattooed face and tomahawk strike terror in the minds of people. Ishmael is scared in the beginning but later finds him a lovable person. They both become good friends and sleep in the same bed. In spite of his rough exterior, he has a tender loving heart. He provides the remedy for Ishmael's alienation like Hagar to the Biblical Ishmael."
Queequeg, the savage, is contrasted with the civilized men who are torn with an inner strife. He is simple and straightforward and has no inner conflict like the so called civilized people. He is forgiving, generous and humane. When someone mimics him behind his back, he gets furious and handles him roughly, but when that person falls into the sea, Queequeg jumps into the sea and rescues that unfortunate man and wins the admiration of everybody. He seems to be saying himself:
"It's a mutual, joint-stock world, in all meridians. We cannibals must help these Christians" (Moby Dick, p.76).
The character of Queequeg is the product of Melville's admiration for the savages of the islands he visited.
Also Read: