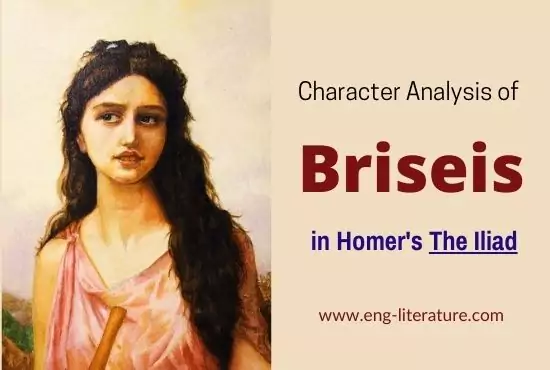 Briseis Character Analysis
Etymologically Briseis mean "a girl from a place called Bresa". We do not know her name even. But her small vignette leaves an abiding impression upon the readers' mind. Like Helen, Briseis is also a prize of the battle. She was a captive and given to Achilles. But as Agamemnon was obliged to restitute Chryseis, the daughter of a priest, he demanded that Briseis must be given to him. Achilles was in fury when he heard this. But eventually "fair-cheeked" Briseis had to be surrendered. We have no reason to believe she had fallen in love with Achilles. Had they been in love, the episode would be like a medieval romance, which would, however, be not compatible with the spirit of Homer's epics. For in neither The Iliad nor The Odyssey is there a love-story.
And yet Briseis was not willing to part from Achilles, whom he must have regarded as a generous master.
"Patroclu now the unwilling beauty brought;

She, in soft sorrow, and in pensive thought:

Passed silent, as the heralds held her hand

And oft look'd back, slow moving o'er the strand."
Briseis had 'soft sorrow', and she was in 'pensive thought': she looked back again and again. A slave that she was, she had a feeling mind. She did appreciate the generosity of Achilles, and her pensive demeanor is an eloquent expression of her gratitude.
We meet Briseis again on the occasion of the death of Patroclus. She threw herself upon the dead body of Patroclus in frantic grief. She exclaimed:
"How one woe after another takes me! I saw my husband slain before our city, and my three brethren; but you, Patroclus, then comforted me, and said I should be Achilles' wife: you were ever gentle."
These words are highly significant. They tell us the sad tale of Briseis. She lost her dear husband and three brother. It was then that she came into the possession of Achilles. Patroclus has comforted her that some time or other she would be Achilles' wife. It is absolutely wrong to suppose that she once dreamt that she would be the wife of the greatest hero, who would wipe away her tears and build a sweet home for her?
Also Read:
That dream, if it was really a dream, never came true. But she could not forget the unfailing goodness and gentleness of Patroclus, who comforted her in the same way as Hector had comforted Helen.
Briseis emerged for a while, and was lost again. But her life was not insignificant. She became the bone of contention, and the wrath of Achilles over the loss of this unnamed and obscure girl was the hard core of the epic.